Worthington rings the changes
Nigel Worthington is set to make five changes to his Northern Ireland side for Friday's clash with Wales.
Last Updated: 26/05/11 9:28pm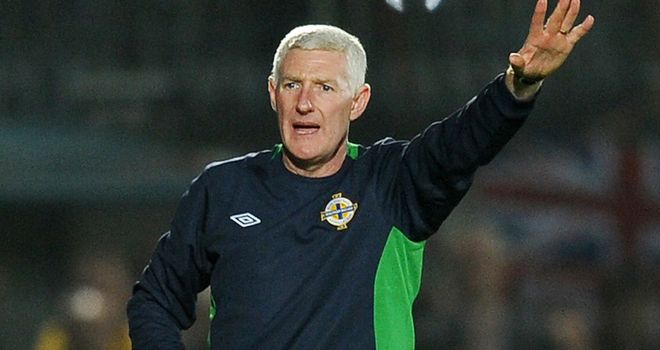 Nigel Worthington is set to make five changes to his Northern Ireland side for Friday's clash with Wales.
Northern Ireland were hammered 5-0 by Republic of Ireland in a Carling Nations Cup game on Tuesday and are looking to bounce back against Gary Speed's Wales.
Jonny Tuffey, Colin Coates, Oliver Norwood, Robert Garrett and Niall McGinn have all been drafted into the team to face the Welsh at the Aviva Stadium in Dublin, with both nations battling to avoid finishing bottom of the tournament.
Josh Carson made his debut against the Republic and retains his place in the side, while Oldham teenager Carl Winchester is expected to come off the bench and earn his first cap in this match.
But Worthington suffered a setback after Steven Davis and Sammy Clingan were forced to withdraw from the squad with hamstring and hip problems respectively following Tuesday's defeat.
The manager said: "You never like to lose players at any stage.
"In the current situation, when we have very few senior pros with us anyway, to lose the quality and experience of Steven Davis and Sammy Clingan is another jolt for us.
"But we will stick another couple of youngsters in and give them some experience.
"Hopefully the kids will come through with experience that will hold them in good stead in the future."
Criticism
Worthington has shrugged off the criticism from fans and the media that followed the defeat to the Republic, backing his crop of young players to come good.
He said: "Everybody is entitled to their opinion. It's freedom of speech and we accept that, it's part of our job.
"But people who are football people will realise that there is a lot of youth and a lot of inexperience who have been with us over the Scotland and Republic games.
"The youngsters have got to learn. You can only do what you can do - it's as simple as that. The youngsters have got to grow up. It takes time.
"When we have had a strong squad out in the qualifiers and everybody is here, we have had fantastic results.
"The friendly scenario is disappointing but when you've got different personnel turning up, you look at things, you try different things, and these things do happen.
"People make their own minds up and I've got no problem with that. I can only work with what I've got and I will do the best, as I've always done, with the situation that we're in."