Stuart McCall is relishing meeting up with Kenny Shiels when Kilmarnock visit Motherwell
Stuart McCall is relishing meeting up with one of his favourite managerial colleagues when Kilmarnock visit Motherwell.
Last Updated: 29/12/12 2:16pm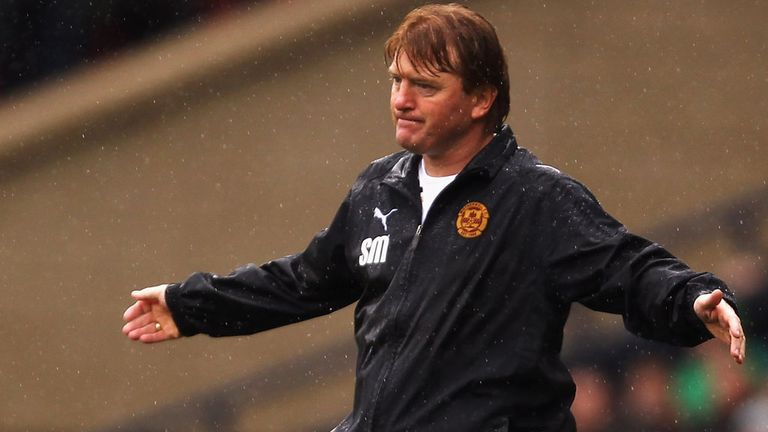 Killie's outspoken boss Kenny Shiels is free to return to the technical area at Fir Park following a three-game touchline ban for remarks made about referee Euan Norris following his side's defeat to Inverness on November 3, with another two-game ban suspended until the end of next season.
And Shiels' feud with the footballing authorities will continue into 2013.
He accused fourth official Andrew Dallas of an "outrageous fabrication" against him after an incident which saw the Northern Irishman sent to the stand in a home SPL match against St Johnstone last month.
Shiels has been asked by Scottish Football Association's disciplinary panel to explain those comments on 10 January.
McCall, though, admits he is a big fan of the Rugby Park boss, saying: "Kenny is interesting, I see him at a lot of games and bounce matches. He's a football man, he studies and is enthusiastic about the game and I get on fine with him.
"We've never had a cross word during games and he is always in afterwards for a cup of tea. And I will be honest, when I've driven home a couple of times from games I have been watching this season I've actually sat in the car waiting for his interview to come on, just to listen to see what he has got to say.
"That's a genuine interest in listening to his outlook, especially when you are going to be playing them soon.
"A couple of weeks ago after they had a great 3-3 draw up Dundee United on a Friday night, I think the radio programme went on a bit longer just to get Kenny on.
"I sat in the car listening to what he had to say while my missus had a cup of tea waiting on me.
"He is always entertaining. He is a deep thinker and I think he has been good for the game - and I like his Kilmarnock side. I think they have a lot of good players, I could go through the whole side.
"They will be definitely looking to be top six with the squad they have got and they will be confident of doing that."
Motherwell's thumping 4-1 home win over Aberdeen on Boxing Day moved them level on points with second-place Inverness.
However, McCall is reading little into league positions at this stage of the campaign.
The former Scotland, Rangers and Everton midfielder said: "The boys are playing with a lot of confidence. Take out the cup games and we have been pleased with the consistency levels.
"It would be nice to end the year with back-to-back home wins but it is easy to get carried away.
"We have not beaten Kilmarnock here since I've been in charge, they are always tight games but always good games.
"We are joint-second at the moment but a couple of defeats and you could be down to sixth or seventh. So, a realistic ambition is a top-six place but with the desire within the squad we would like to get a European spot.
"But we will know when the transfer window closes which squads have been weakened and which have been strengthened."