Kilmarnock manager welcomes Kris Boyd's ambition to test himself at a higher level
Kilmarnock manager Allan Johnston has welcomed the ambition of Kris Boyd to test himself at a higher level.
Last Updated: 13/02/14 5:37pm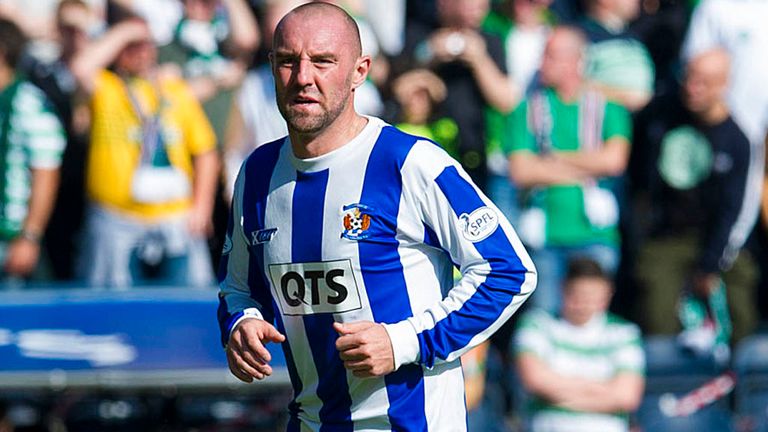 The 30-year-old this week revealed he was ready to move to a big club in the summer if the opportunity arose.
The former Rangers and Middlesbrough striker, who has scored nine goals in his last 10 games, was linked with moves to Nottingham Forest and Blackpool last month while Coventry are reported to be considering a summer move.
But Johnston admits it would take a 'really, really good offer' for Boyd to consider a move from Kilmarnock as the club have made it clear that they are intent on keeping him next year.
"I'm sure there will be loads of clubs looking at Kris Boyd, the way he has played this season. He has been fantastic for us," Johnston said.
"And he has still got the ambition to play at the highest level. You want that. If players play with hunger, they play better.
"So I'm not disappointed that teams are showing an interest, it just shows how well he has been doing.
"We want to keep our best players. We have already said to Boydy that we want to keep him next year, but time will tell if that happens.
"I think it would take a really, really good offer to a big club for him to move because he is happy here.
"He's a real leader on the park and a big influence in the dressing room as well. I think he is actually getting better as he is getting older, with his movement. And he is still hungry to score goals. He has definitely matured as a player as well."
Killie take on Dundee United on Saturday and Alexei Eremenko could be unleashed behind Boyd after playing 22 minutes against Ross County on February 1 following his return to the club.
"He's worked hard over the last 10 days or so and you can see he's a real talented player," Johnston said.
"It will just be a decision over whether we are going to start him or bring him on from the bench."