Police to investigate claims Hib's Leigh Griffiths sent a racist tweet
Lothian and Borders Police have confirmed they are to look into claims Hibernian's Leigh Griffiths sent a racist tweet.
Last Updated: 11/01/13 1:22pm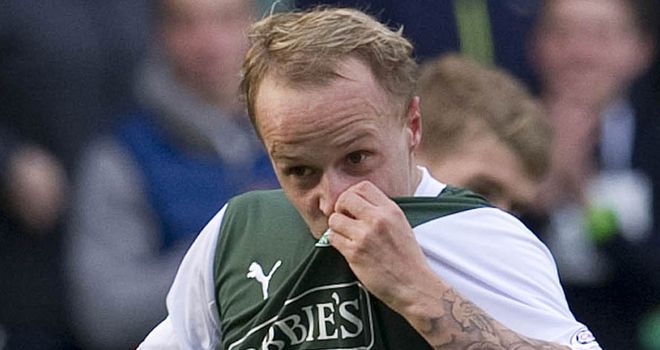 Hibernian have confirmed that they will discipline Griffiths, who is on loan at Easter Road from Wolverhampton, and the Championship club have issued their own strongly-worded statement regarding the allegations.
Hibernian's statement said: "We have spoken to Leigh Griffiths about exchanges on a social media website.
"The player had realised that despite the provocation, the language he used was totally unacceptable and had already apologised for what he said. The player has closed access to the account.
"The player supports the club and the whole of Scottish football in its stance against racism, bigotry and anti-social behaviour.
"The player will be subject to a disciplinary process which will be a private matter between the club and the player."
A statement from Wolves read: "The Club condemns such comments in the strongest possible terms and are extremely angry and disappointed.
"The player is currently on loan at Hibernian FC and is likely to remain there for the rest of the season.
"He is, therefore, subject to the disciplinary procedures of Hibernian FC and those of the SFA. However, Wolves are in dialogue with Hibernian and are making their feelings known on the matter."
Wolves paid Dundee £150,000 to sign Griffiths two years ago but he only made one appearance in a League Cup tie before he was farmed out to Hibs for his first loan spell last season.