Wolves chief executive Jez Moxey insists Leigh Griffiths 'is staying at Molineux'
Wolves have rejected the suggestion that Leigh Griffiths will be leaving Molineux and returning to Hibs next season.
Last Updated: 18/06/13 11:40am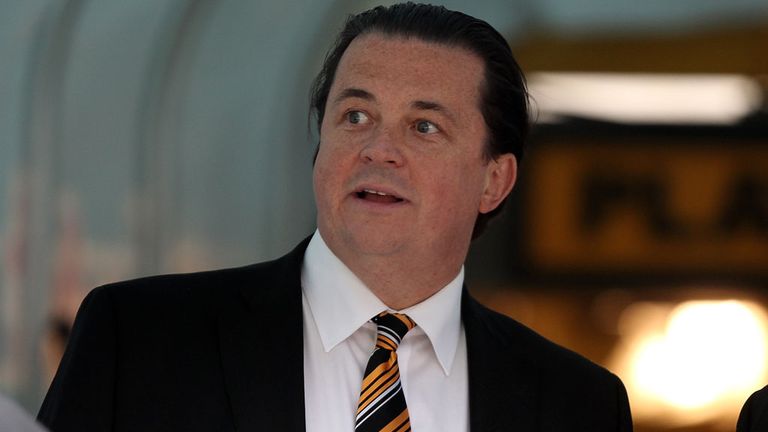 The Molineux striker has spent the last two seasons on loan in Edinburgh and has returned to the Midlands club which was relegated from the Championship last month.
Griffiths has not played for Wolves since August 2011 when he was a late substitute in a Carling Cup match against Northampton.
Hibernian Chairman Rod Petrie said: "I wanted to come to Wolverhampton to meet Jez face-to-face to impress upon him the desire of Hibernian to acquire the services of Leigh Griffiths on a permanent basis.
"We had a cordial meeting and I put firm proposals on the table. However, these have been rejected outright. Reluctantly, we have to conclude that there is nothing further that can be done at this time to prise the player away from Wolves."
Moxey confessed that Griffiths - the SPL Player of the Year - was not given many opportunities during his earlier time at the club.
"As we have previously stated, we took up the option to extend Leigh's contract for season 2013-14, towards the end of April, and this was acknowledged in writing by the player.
"Our new head coach Kenny Jackett is looking forward to working with Leigh who has been such a sensation in Scottish football during his time with Hibernian.
"There is no offer which can be made at this time that will change our minds.
"Leigh will be returning to Molineux and will play his part in our pre-season friendly matches.
"More importantly, we want Leigh to score goals for Wolves in League One, just as he has done for Hibernian in the Scottish Premier League, and hope he will help the team to success this coming season."