Celtic boss Neil Lennon blasts 'shocking' Hibs tackling in 1-1 draw at Easter Road
Neil Lennon hit out at Hibs following Celtic's 1-1 draw at Easter Road describing some of their tackling as "shocking"
Last Updated: 20/10/13 12:03pm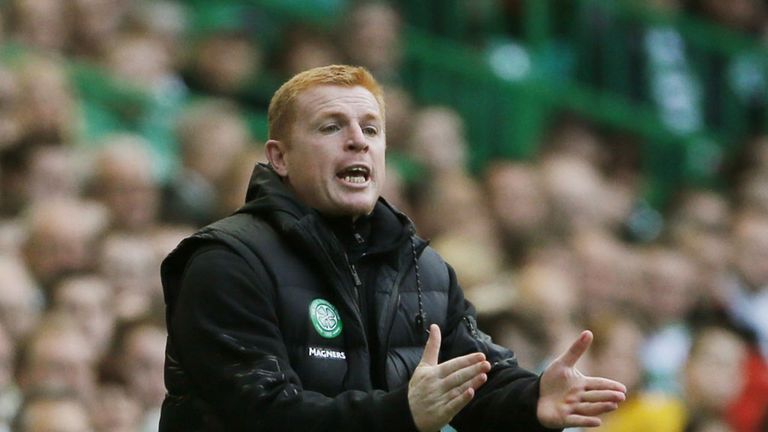 Hibs striker Paul Heffernan opened the scoring in the 17th minute before Hoops substitute James Forrest levelled with a wonderful solo goal with 15 minutes remaining.
Only two Hibs players, Liam Craig and Ryan McGivern, were booked but Lennon was furious when asked about some of the tackling from Pat Fenlon's men.
He said: "It was shocking - absolutely shocking. Reckless.
"I'm all for competitive football, no one more than myself, but seriously, they were borderline tackles.
"I didn't really say to Pat but I made my feelings pretty clear to the fourth official. I don't think it was any player target in particular, it was across the board.
"We've got a big Champions League game and I'm not asking any favours, I don't mind teams being competitive, and the physicality of the game was good but I felt it was over the top."
"My opinion may be different from Pat's, he'll say he sent his team out to get in our faces and I don't mind that at all, but the ref should take more of a grip on it sometimes."
Lennon also claimed Heffernan's goal was offside, saying: "I haven't looked back at the goal, I didn't need to - you can see he's at least a yard off.
"I'm not here to criticise officials but when it's as blatant as that, you have to ask 'why did you miss that?'
"Our reaction to what was clearly an offside goal was fantastic, though, and the unbeaten run continues."
Fenlon showed no contrition when told of Lennon's criticism.
"Good," he said.
"That means the message is getting across to my players, that we want to go and compete and get in people's faces.
"We worked tremendously hard and we made sure Celtic knew they were in a game and that's what it was about today.
"You've got to be because if you stand off them and let them play then they will tear you apart and we weren't going to (let them) do that.
"I think most of the tackles were fair, I think there was one in the first half that they moaned about but it was a good tackle, it was a real good challenge.
"Everyone has different opinions I suppose."