Scottish Premiership: Terry Butcher admits 0-0 draw with Inverness a 'poor game'
Hibernian manager Terry Butcher admitted their 0-0 draw at former club Inverness was a "brutal" game of football.
Last Updated: 12/03/14 11:21pm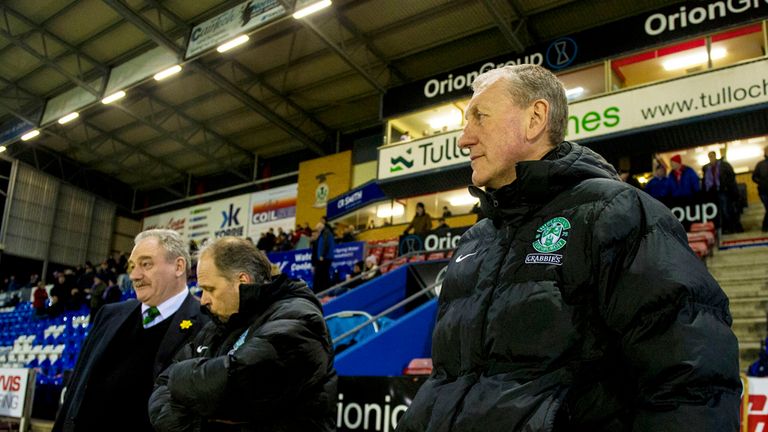 It was the first time the former England captain had returned to the Highland capital since leaving Inverness in November for Easter Road.
Chances were limited at both ends, and Butcher conceded that the game was best forgotten.
"The most interesting thing that happened tonight was when Maurice (Malpas) shouted some instructions and Aaron Doran turns round thinking 'is he talking to me?'," he said.
"It was a poor game. Those few funny things lifted our spirits because it was a brutal football game. I asked the players afterwards if they enjoyed the game and they just said no, so that's never a good sign.
"From a defensive point of view it's great because you get the clean sheet but offensively we were terrible.
"The way Caley Thistle lined up made it more difficult for us to get on the ball and get it to our wide players, so we've got plenty to think about."
Opposite number John Hughes has his attention firmly fixed on Sunday's Scottish League Cup Final against Aberdeen.
Hughes believes his side will be at full strength to take on the Dons this weekend.
"Thankfully we've come through tonight unscathed and in some ways it's worked in our favour," he said.
"Because if we didn't have this game then the boys who are suspended would have missed the final.
"Looking at the game it wasn't the greatest. I think the overhead conditions played a part in that and the pitch is a bit tricky to play on at the moment, but the ground staff are working overtime on it.
"It was all about us tonight. We've got guys game time, kept a clean sheet and hopefully take some confidence from that.
"We're looking forward to Sunday now. The team's not picked yet. We're injury free and I believe it won't just be the starting 11, because the substitutes will have a big part to play."