Scottish Premiership: Terry Butcher slams Hibs after 3-1 defeat at Partrick
Hibernian manager Terry Butcher again lambasted his side after the 3-1 defeat at Partick Thistle.
Last Updated: 16/03/14 8:08am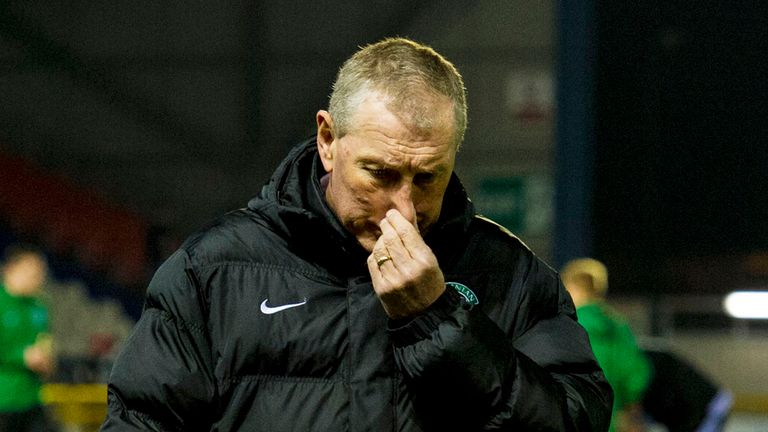 Hibs have only won once in the league this year and Butcher did not spare his side after goals from Chris Erskine, Lee Mair and Kallum Higginbotham won the day for Thistle.
When asked what disappointed him most, Butcher said: "Lots of things.
"I think Hibs fans have seen this performance so many times. Performances like that have happened all too often for Hibs in the past.
"It will be an interesting team selection next week. I'd rather go with kids and lose if we're going to lose, but let's go with kids, at least they're honest.
"Today Watmore and Sam Stanton were excellent for us and they tried their socks off, and they are being let down by other players.
"We pushed Sam out wide left to have a go at the full-back and he got into a good position for the goal, but I need three or four Sam Stantons in the team and I haven't got that.
"I need three or four Duncan Watmores in the team and I haven't got that.
"They're game boys and if you look for any comfort from the game - and there's not much - those two would provide it between themselves, so it will be interesting next week.
"We'll certainly have a look at team selection because we've got eight battles now. I don't like being let down. I do not like being let down."
Partick Thistle manager Alan Archibald added: "I'm absolutely delighted.
"I thought Hibs controlled the first half to be honest, but I thought we showed a very good determination to defend really well and also our front four players I thought were very good.
"I think it's the first time we've had the front four all on from the start, (Kris) Doolan, (Lyle) Taylor, Erskine and Higginbotham. When they link up, as you seen from the first goal, the quality they brought.
"To get them on the pitch at the one time they've all got to really work so hard, and as a management team we're more pleased with the way they worked off the ball as well, because we had to do that against a very good Hibs side."