Scottish Premiership: Hibernian manager Terry Butcher fears the sack after relegation
Last Updated: 25/05/14 9:16pm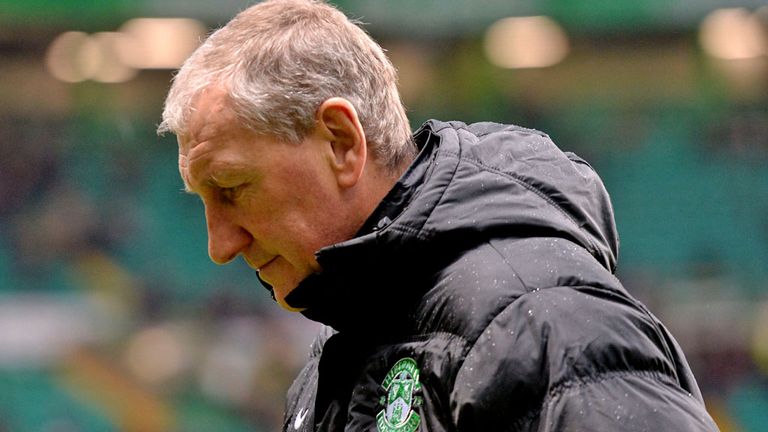 Hibernian manager Terry Butcher admitted his job is hanging on a knife-edge after watching his side crash out of the Scottish Premiership.
Hibs were relegated after losing to Hamilton on penalties in the play-off second leg at Easter Road, following Hearts into the second tier for the first time since 1999.
The former Sunderland and Motherwell described their season as a "car crash" and a downward slide he simply could not stop, as Hibs sacrificed a 2-0 first-leg lead to draw 2-2 in normal time on Sunday.
Butcher told Sky Sports: "I never thought we'd be in this position. We thought we'd be challenging for the top-six a few months ago but it's been a slide - like watching car crash - and we just haven't been able to stop it.
"There will be implications on my job. I carry the can because I'm the manager and I've had ample time to have turned it round but I've been unable to do it.
"It's my job to get points and win football games and I haven't done enough. No one likes to see a club like this get relegated.
"If it's down to me I will be here. I want to continue because I would like the opportunity to restructure the club in the right way. But that situation is out of my hands now."
Hibs were far from favourites for relegation after qualifying for the Europa League last season, but they finished second bottom in the restructured Premiership after just eight wins from their 38 games.
"It doesn't matter about being a big club," Butcher said. "If you put performances in like we have done and don't do the job on the pitch, where it really matters, then it you are going get relegated.
"We've had chances to stop it. We've had so many opportunities to get wins and points. But we are going to blame ourselves and we have no excuses. I take full responsibility."