Scottish Premiership: Terry Butcher and Rod Petrie apologise to Hibernian supporters
Last Updated: 26/05/14 6:57am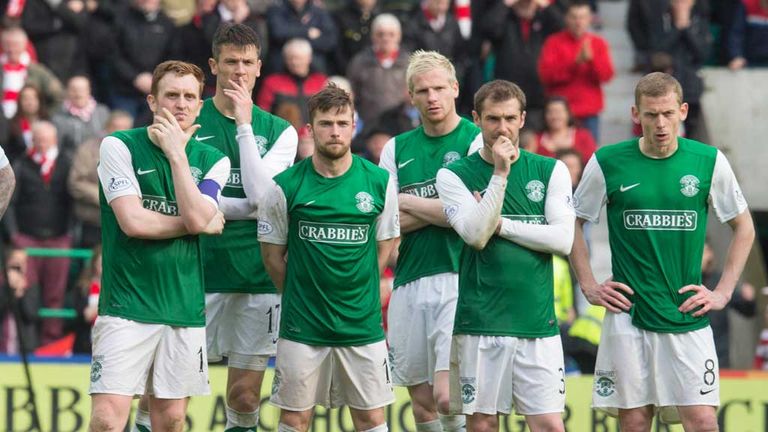 Hibernian manager Terry Butcher and chairman Rod Petrie have issued an apology to supporters following the club's relegation to the Scottish Championship.
Hibs lost their place in the Premiership after losing to Hamilton on penalties after a 2-0 defeat in the second leg of their play-off at Easter Road.
There have been suggestions that both Butcher and Petrie could depart as a result, but the pair look set to stay put as they attempt to lead the club back into the top flight in Scotland.
Butcher, speaking on behalf of the coaching staff and players, said: "We are devastated that our season has ended in this way, and we can only apologise to supporters for letting them down.
"I knew when I took on this role that it would be a challenge, and I remain determined to work to rebuild a team to get this club to where it belongs at the top of Scottish football. I can assure supporters they will see very different performances and results next season."
Petrie added: "Let me start by saying that I am sorry for a dismal season on the pitch. The season started badly last July against Malmo in the Europa League and has finished even worse with relegation to the Championship.
"The manager and players know that performances on the pitch have not been good enough. Supporters are suffering. All we can do is apologise and thank them for backing the team. Supporters are also quite rightly asking what we are going to do about it?
"We recognise that change is needed. The board and supporters agree that all of the work that has gone into creating an infrastructure unrivalled outside Glasgow needs to be matched by consistent sporting success.
"Some supporters have suggested that I should resign as chairman. I take responsibility for the position that the club finds itself in. However, it would be wrong for me to abdicate that responsibility at this time and walk away and it would be wrong for the club.
"Having already announced a few weeks ago that I am handing over my executive responsibilities, it is in the best interests of the club for me complete that transition to our new chief executive and to oversee the other far-reaching changes at the club as non-executive chairman.
"Leeann Dempster has already been appointed as chief executive to lead the club forward. She will join us in the next few days. Leeann achieved sporting success at Motherwell and will work closely with Terry Butcher as the club begins the task of assembling a competitive squad for next season. 
"Leeann's arrival is the first of a number of planned changes in the coming weeks and months ahead at Hibernian."