Hibernian Supporters Association calls on chairman Rod Petrie to step down
The Hibernian Supporters Association has again called on chairman Rod Petrie to step down from his post.
Last Updated: 30/05/14 4:37pm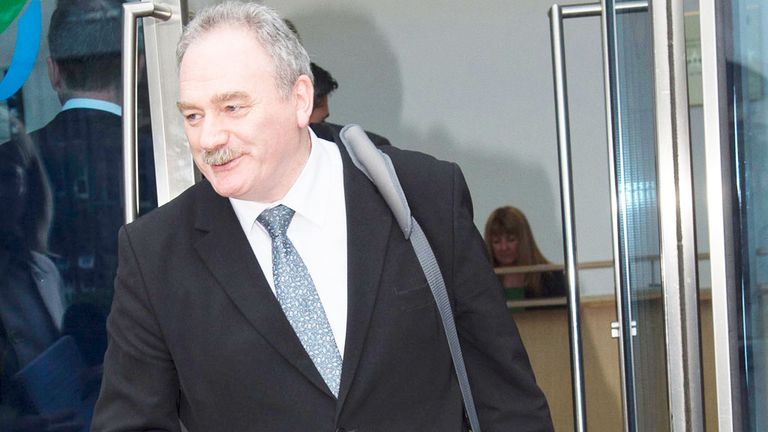 Hibs fans are still reeling from the club's relegation to the second tier of Scottish football, and they are threatening to withhold money from the club in an attempt to enforce changes in the boardroom.
Petrie, who is also a shareholder in the club's holding company, has already stated he has no intention of quitting his position at Easter Road.
The meeting of the fans was addressed by Paul Kane, whose eight-year spell at Hibs ended in 1990, and was attended by well-known Proclaimers singer Charlie Reid.
Reid has been alarmed at what he considers the decline of the Leith club, who were relegated for the first time in 16 years last Sunday.
"I think the need for change at boardroom level at Easter Road has been apparent for years now to many of us and I think the relegation, the ineptitude that led to the relegation, has to come home to the boardroom, and I think Petrie's got to go," Reid told Sky Sports News.
"I think as chairman it's unique in the history of Hibernian Football Club. He's been on the board twice when we've been relegated. He was here last time when we were relegated in 97/98 and he's here again.
"I think Rod's done a lot of good for the club. The stadium's magnificent, the training facilities are great, but there's been a lack of investment on the playing side which has come home to hit us again.
"But for two or three extra players on reasonable wages, professionals, I think we would have stayed up quite comfortably.
"But because it's not happened, because we've squeezed the playing staff, we've squeezed the wages, they've squeezed us right down to the lower division."
And Reid is adamant the Hibernian supporters are united is seeking change at the top of the club.
He added: "I think it was evident. I think Paul Kane spoke for everybody when he appealed for unity, and I think that's the most important thing.
"Supporters have got to stand together if they want to move the board, and I think Paul's a worthy leader at this moment. We need somebody to speak for the supporters.
"He speaks for the overwhelming majority of support, given the fact that a democratic vote has been taken."