Scottish football: Hibs chief exec Leeann Dempster calls for time to turn club around
New Hibernian chief executive Leeann Dempster has called for patience from fans as she bids to turn the club around.
Last Updated: 07/06/14 6:20pm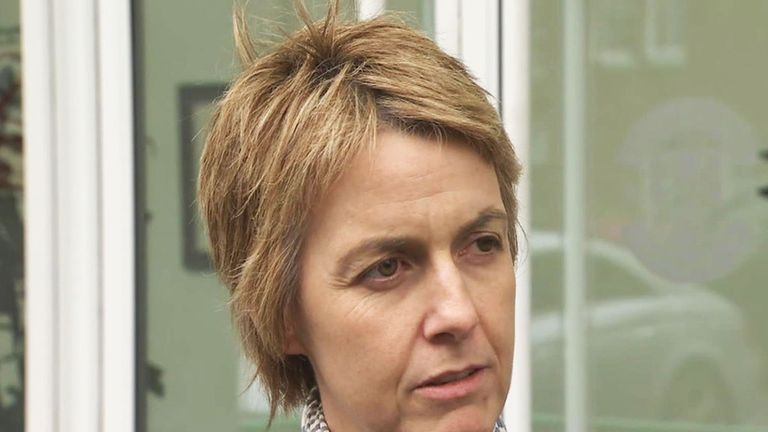 Supporters groups gathered outside Easter Road on Saturday morning calling for chairman Rod Petrie to be removed following the club's shock relegation to the Championship last season.
Dempster, who previously worked in a similar role at Motherwell, met with a fans group inside the stadium and labelled the talks 'constructive' before pleading for time in her quest to revamp the club's fortunes.
Speaking to Sky Sports News she said: "There is definitely a real depth of feeling from the supporters, there is no doubt about that.
"That was there for everyone to see today when I met with the supporters group who were fairly representative of the Hibernian supporters. It was fairly direct, let's not pretend otherwise, but I think it was a productive day."
Asked if it was within her remit to remove Mr Petrie from a post he has held since December 2004, she added: "I have been brought here to change the football club in many different forms. But it isn't within my control (to remove the chairman).
"There is a process around how a business operates, how a football club operates. I have been brought here to change the club in a positive way and I intend to do that by influencing the future. I can't change what has gone on in the past.
"I came here on the guarantee I had full autonomy to run the football club. I was doing that at Motherwell and had the full support of the board there.
"I would not have changed jobs otherwise. I will be judged on what I do here and I need time to demonstrate that I can change things. I have only been here a week and I understand people are frustrated. I do get the sense and depth of feeling.
"The relegation has been damaging in many, many ways and our supporters are finding it very difficult, but I need some time to make changes and I want to do that as quickly as I can."
Dempster, who will sit down with manager Terry Butcher early next week to discuss the way forward, added: "Let me make those changes for the benefit of this club.
"Let me show that I can do that. I am very confident I can do it and I am very optimistic about the future.
"It is going to be a terrific Championship next season when you look at the teams who will be involved. We just need to get ourselves into a position where we have a team who we are confident in, and one which can get us out the league at the first time of asking."