Levein pleased with youngsters
Craig Levein was pleased with the impact made by youngsters David Goodwillie and Barry Bannan after Scotland beat Lithuania.
Last Updated: 06/09/11 10:43pm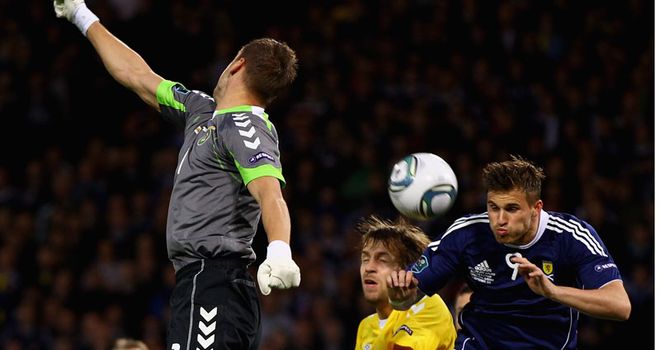 Craig Levein was pleased with the impact made by youngsters David Goodwillie and Barry Bannan after Scotland beat Lithuania 1-0 at Hampden Park on Tuesday night.
Steven Naismith was on target as Levein's side kept their Euro 2012 qualifying hopes alive, cutting the lead of second-placed Czech Republic to two points in Group I.
Blackburn youngster Goodwillie and man-of-the-match Bannan were making their first competitive starts for Scotland and Levein was delighted with how they performed.
Delight
"Barry, of course, was a delight to watch," Levein told Sky Sports News. "His trickery and his composure.
"He had a good game so I was relatively pleased.
"I think it's much easier for the likes of Bannan to come into a five-man midfield when you're making your competitive debut.
"For Goodwillie I thought it was particularly difficult tonight. To play that lone striker role takes knowledge.
"I thought he did ever so well. He ran his heart out, showed some really good touches and good link-up play. Overall I think for David it was a great experience."
Captain Darren Fletcher missed a penalty for Scotland on the stroke of half-time but other than that blunder Levein felt his display was a strong one.
He added: "He missed a penalty (but) he played excellently, he really did. He was a great driving force behind the team. I was really pleased with him and the rest of the guys."
Levein felt the Scots did well to preserve their lead under pressure from Lithuania in the dying stages of the clash, but lamented missed chances earlier in the game.
"I thought we played really well tonight in spells," he said. "We made it a little bit more difficult than it should have been my missing good chances.
"There were a couple of nervous moments towards the end when they were throwing the ball in the box and had five strikers on, but the lads handled it well."
The win provides Scotland a welcome boost following their disappointing 2-2 draw against the Czech Republic on Saturday, which saw crucial refereeing decisions go against them.
Criticism
Levein has hit back at criticism of Scotland's performance in that match, insisting the negativity is harmful to his side.
"Some people can't wait to disrupt what we're trying to do and I can't understand it," he added.
"Anyone who's got a television saw what happened on Saturday and I thought the reaction was way over the top.
"We're trying to play a different style of football and garner a good team spirit and I think we need people to get behind Scotland like the supporters do."