Peter Houston left frustrated as linesman denies Dundee United a point
Peter Houston was left frustrated after seeing his Dundee United side denied a point by a controversial decision.
Last Updated: 12/11/12 12:27am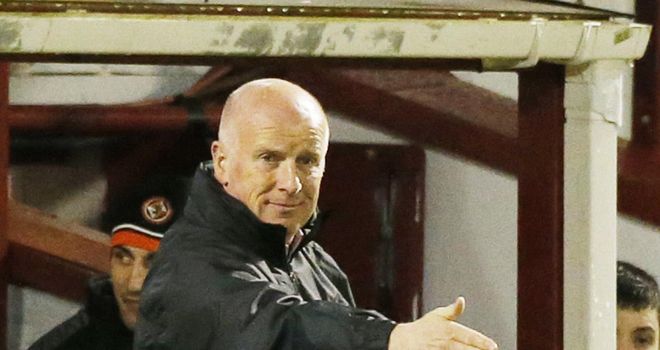 United went down 2-1 to Hibs as their run of four straight SPL victories came to an end but the defeat was hard for Houston to stomach.
The visitors trailed to goals from Leigh Griffiths and Eoin Doyle, but Gary-Mackay Steven pulled one back and a grandstand, winner-takes-all finish was denied by an error by the linesman in ruling out a second-half Rudi Skacel header.
"Television cameras prove that Skacel's 'goal' was onside," said Houston, "but yet again we're left here talking about a decision poorly made by the official. The linesman should be able to see that.
"It's different if the ball ricochets here, there and everywhere, but it's just a ball into the box and he's not recognised the fact that Skacel is level.
"If I go and ask the official it's not going to change anything, but they need to realise that they've made an error."
Houston though admitted his team left themselves too much to do after a poor first-half display.
"We put a lot into the second half with regards to our effort, our performance and work rate," he added. "So I had to ask the question of the players again: why didn't they do that in the first half?
"It's a bit of a setback given our recent form, but if we continue to play like we did in the second half then we'll do all right."