Peter Houston applauded his Dundee United side for a professional performance in the Scottish Cup
Dundee United boss Peter Houston praised his side for a clinical 5-0 win over Stranraer in the Scottish Cup fourth round
Last Updated: 02/12/12 9:46am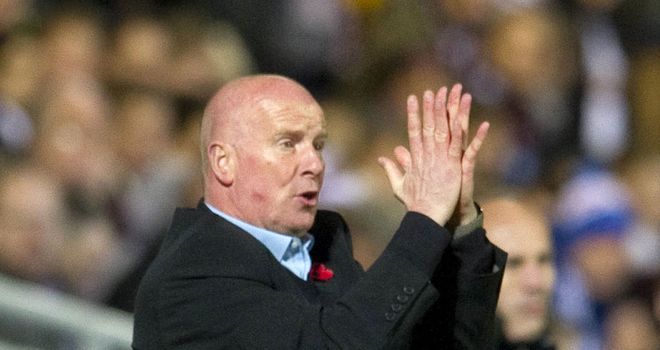 The front pairing of Johnny Russell and Jon Daly shared the goals and Houston his side should have won by a greater margin.
"We could have scored a lot more," the boss said. "Their goalkeeper won the sponsors' man of the match and the boy did quite well.
"Their defenders did as well as they could but they are playing against Russell who is sharp and Daly who is experienced and a handful."
Despite Russell netting a hat-trick, Houston believes there is still room for improvement before he is ready for a move to a bigger club.
He said: "There are bits of his game when he plays against better opposition that he is still to learn.
"I've said it about David Goodwillie at one time and when it was time for him to go I was saying it was time for him to move on.
"I think Johnny is playing every week and if he went down to a Premiership team he would not be playing every week.
"I look at some players who go down and don't play - in fact we've got about ten ex-players that are not playing just now since the cup final."
Home boss Stevie Aitken said: "To be fair to Dundee United, they came down with a great attitude.
"Sometimes it is difficult for big teams to come to a place like this and maybe they do not show the right attitude but fair play to them."