Scottish football: Dundee United legend Frank Kopel dies aged 65
Dundee United legend Frank Kopel has died after a long illness. He was 65.
Last Updated: 16/04/14 12:30pm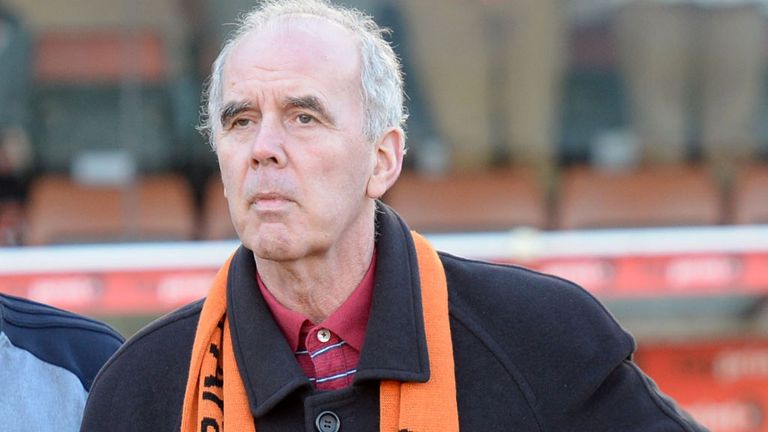 The Tannadice Hall of Fame inductee, who was diagnosed with vascular dementia six years ago, made 407 appearances for the club between 1972 and 1982.
In a statement on their website, the Scottish Cup finalists said: "Everyone associated with Dundee United will be saddened to hear that Frank Kopel has lost his brave battle against his cruel illness.
"Frank was the first signing made by manager Jim McLean and for almost a decade was a fixture in the side at left-back. In his 10 years at Tannadice, his steady, reliable performances contributed to the success of Dundee United throughout the 1970s.
"His status as a legend was of course secured as part of the side which won the club's first major trophy in 1979, but even before that he was an integral part of the side which continued to ensure United's place in the top flight of Scottish football.
"In particular he played an important part as United held on to Premier League status in the very difficult season 1975-76. In total, Frank made 407 appearances for Dundee United, which ranks 11th in the club's all-time list of appearances. His outstanding contribution to Dundee United was rightly recognised by his induction into the club's Hall of Fame in 2011.
"A Scottish schoolboy international, he became a Busby Babe when joining Manchester United after leaving school in 1964. He turned professional in 1966 and made 12 appearances for the Red Devils, including a European debut against Anderlecht in November 1968. He was sold to Blackburn Rovers in March 1969, featuring for the Ewood Park club in 25 games before being released in December 1971.
"Recommended to United by Ian Mitchell, who like Frank hailed from Falkirk, he was signed by Jim McLean on New Year's Day 1972. Although a defender, he made his debut in midfield against Morton in the league on 29th January 1972. And the highlight of a quiet start to his Tannadice career was netting five times in a couple of Forfarshire Cup ties, including a hat-trick against Arbroath. The following season he established himself as the regular left-back, a position that, other than through injury, he rarely relinquished over the next nine years.
"A member of the United side that reached the Scottish Cup final for the first time in 1974, he was an ever present in the team but unfortunately had to settle for a runners-up medal, as again was the case in the 1981 final. Sandwiched between those disappointments, however, he collected two winners' medals in the Scottish League Cup after wins over Aberdeen in December 1979 and again 12 months later when retaining the trophy against Dundee.
"Understandably, as a defender, he was not renowned for his goal scoring, but undoubtedly his most important goal - and probably the best scored by a Dundee United player on foreign soil - came in October 1979 in Anderlecht. His stunning late strike in a UEFA Cup tie against the Belgian club - against whom he made his European debut in 1968 - took United into the next round on the away goals rule and is part of United's European folklore.
"In February 1982, he was released to be appointed player/coach at Arbroath, but returned to United for short spells on three subsequent occasions, to help out with the reserves. And indeed on occasions he turned out alongside his son Scott, who was also a United player at that time.
"An indication of the affection with which he was held by all Arabs is illustrated by the fact that a supporters' club was named in his honour and by the genuinely warm welcome he received at the many club and supporters' functions and events he attended over the years.
"Our thoughts are with his wife Amanda, his son Scott, and all of his family and friends at this very sad time."