Scottish Cup: Sky Sports experts praise St Johnstone after victory at Celtic Park
Sky Sports experts agree St Johnstone thoroughly deserved their Scottish Cup victory over Dundee United at Celtic Park.
Last Updated: 17/05/14 6:34pm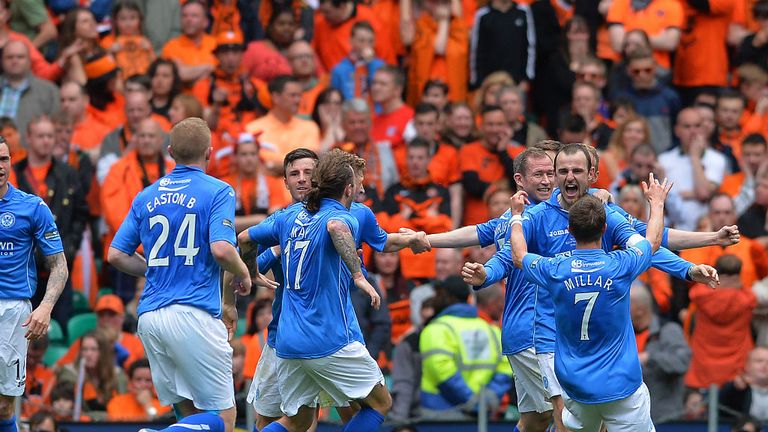 Goals from Steven Anderson and Steven MacLean ended Saints' 130-year wait for a trophy and all three agreed the men from McDiarmid Park thoroughly deserved their victory.
Neil McCann, who won his fifth Scottish Cup medal in his final game for Rangers against Dundee in 2003 - a match where a teenage MacLean was a non-playing substitute for the Ibrox side- said: "It is very hard to put into words how you feel when you win the Scottish Cup.
"These guys have just created an unbelievable piece of history. They deserve it and I hope these fans who have turned out today to witness this come back to watch this team on a regular basis.
"The game needs fans and these supporters have just been touched by a piece of brilliance from Tommy Wright and his team today.
"Like the last three games in the league Dundee United came up against a St Johnstone team who were not willing to give an inch.
"If United were going to score it was going to be through a bit of brilliance or a bit of luck - and they got neither and you have to say as a backline St Johnstone were absolutely magnificent today."
Owen Coyle, who had two years in charge of St Johnstone between 2005-2007, said: "They fully deserved their victory today and they will now get a couple of weeks to recharge their batteries.
"Tommy will give them a programme to ensure they are still in reasonable shape for when they get back. The Europa League qualifiers are in the middle of July.
"But for the club and everyone associated with it this cup victory is fantastic. They deserved it though... from the first minute they were at it.
"There was a period 15 minutes before half time when Dundee United had their best spell but as happens in football St Johnstone scored from an error by United.
"There is nothing sexy about St Johnstone, nothing flashy, but every one of them know their jobs and they stick to their tasks throughout the game, making it so difficult to score against.
"Their fans have been so vocal, so colourful. This has been a terrific advert for Scottish football and over the piece St Johnstone were fully deserving of their victory.
"You have to say that Dundee United didn't have any luck in running. They hit the post and the bar and could easily have scored in both instances, But I don't think they could argue St Johnstone were the better team.
Northern Ireland manager Michael O'Neill, a former international team-mate of Wright's, said: "Tommy is going to be absolutely delighted with that performance and that result.
"They deserved to win. He picked the right team and the best players today were all in St Johnstone shirts.
"This is without doubt the highlight of Tommy's career. As a manager you take on a totally different responsibility to what you do when you are a player.
"He is only one year into the job but despite having to trim his budget he has had a fantastic season and this is a culmination of that."