Richie Foran reckons Inverness Caley have nothing to lose in League Cup final
Richie Foran believes the weight of expectancy on Aberdeen could favour Inverness Caley in Sunday's League Cup final.
Last Updated: 10/03/14 7:33pm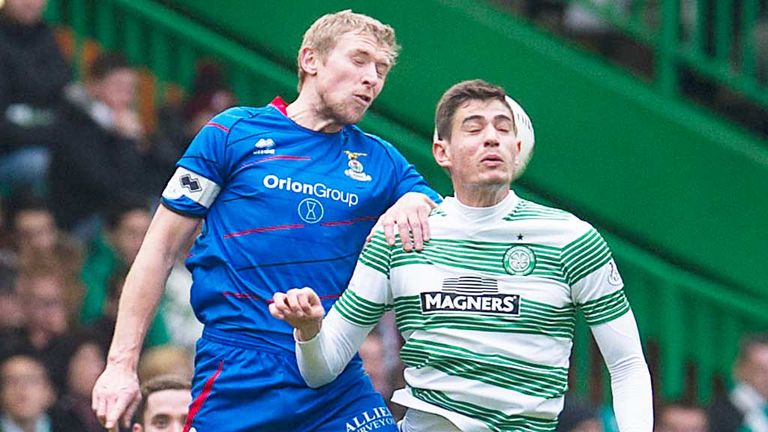 The Celtic Park clash will see Caley Thistle play their first domestic cup final, and it will be the fourth time Foran has taken part in such a game in his career.
And while the Irishman has still to experience the joy of lifting silverware, he is confident his bad run will come to an end this weekend.
Foran said: "It's probably the biggest game we've ever played, for the club and the players. Obviously, we've never been to a major cup final so it's something we're really looking forward to. We're really excited about it as well.
"Three cup finals and three defeats unfortunately. It hasn't gone well for me in the past, but that's in the past, we look to the future at Inverness and we can't wait for Sunday, and I'm really confident going into the game."
Foran is happy Aberdeen are favourites ahead of the match, but the forward reckons that could burden their players, especially with Caley Thistle losing heavily to Celtic and Dundee United in their last two games.
He added: "We enjoy it. We love it. We've been underdogs all season. No one really gives us a chance at times, which we love. All we need is the lads in the dressing room and the manager getting behind us and that's enough for us.
"Aberdeen will bring 40,000 supporters, but with that brings a lot of pressure on their players' backs, so it's going to be a tough game for them.
"We don't look at the past too much, even when we are winning games we always look to the future. It's in the back of our minds now, and as I said we're very confident going into Sunday's game.
"They're sort of local rivals as well in Aberdeen. They're only a couple of hours down the road, so it's a massive game. As I said there's a lot of pressure on the Aberdeen players with bringing that amount of support to the game.
"It's a game the Inverness players can go into really relaxed, look forward to the occasion and enjoy it."