McManus won't be forced out
Middlesbrough defender Stephen McManus has insisted that he will not be forced out of the club.
Last Updated: 08/07/12 9:23pm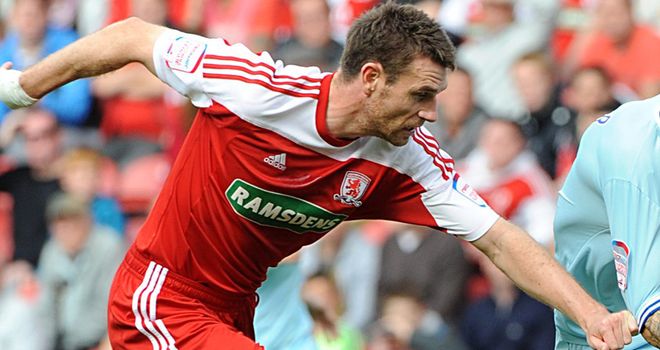 Middlesbrough defender Stephen McManus has insisted that he will not be forced out of the club.
The Scottish international is not in Tony Mowbray's first-team plans and spent the latter part of last season on loan at Bristol City.
Whilst knowing he will only ever be on the fringes of the first-team under Mowbray, who also sold him during their time together at Celtic - McManus insists he will only move if the deal is right.
"I had a good chat with the manager at the end of the season and a few of the lads will need to be moved on. But I'll only be going if it's right for me," he told the Sunday Mail.
"I've enjoyed my spell at Boro, although it has been disappointing that we haven't made it to the Premiership. But we'll give it another go this season.
"There's not a great gulf between the teams so no team should be ruled out from getting up. But one or two clubs will throw more money at it than the rest and that should give them an advantage.
"It's about getting off to a good start and building momentum."
The 29-year-old insists he is not even thinking about his career coming to an end.
"I've had a really good career. I've captained Celtic to SPL titles and played in the Champions League. I've also captained my country so I've been lucky," he said.
"And I believe there is more to come. Davie Weir is the perfect role model. He played until he was 41 and that is an inspiration to every footballer."
Abroad
He also admitted that he would love the chance to play abroad, either in Europe or America.
"I've really enjoyed it in England but I have an ambition to play abroad. I'm open to different things," he said.
"Whether it's Holland, Germany, Portugal or America, I'd look at any option. I'd give it my all. It couldn't be half-hearted. I'd be in at the deep end and would embrace all aspects on and off the park and learn the language if necessary.
"I'm at the age now where I'm starting to think about life after I hang up my boots, although I believe as a central defender I should be entering the best two or three years of my career."