Motherwell boss Stuart McCall pays tribute to Sheffield United-bound Jamie Murphy after Celtic defeat
Motherwell boss Stuart McCall paid tribute to Jamie Murphy after his farewell performance in a 1-0 defeat to Celtic.
Last Updated: 03/01/13 8:09am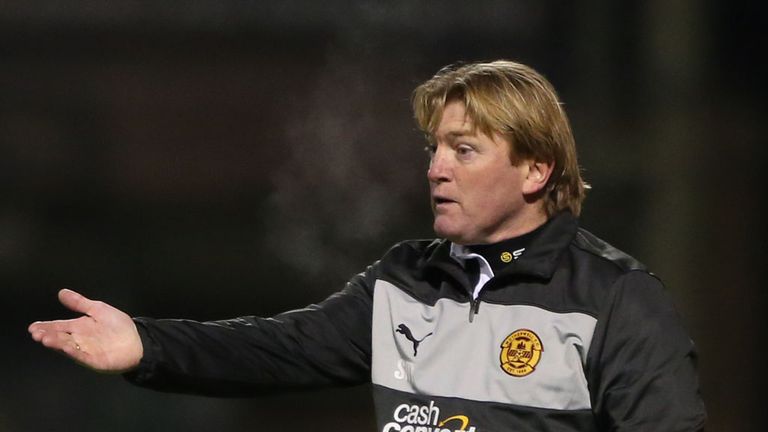 Murphy was made Motherwell captain as he played his last game for the club before signing for Sheffield United for a six-figure fee.
The winger won a penalty that Tom Hateley failed to convert, meaning Gary Hooper's 79th-minute goal was decisive, and McCall admits he will be missed.
"I had a tear in my eye going on the pitch at the end for Jamie," he said. "We had a few words and a round of applause for him in the dressing room.
"I think he will do really well down there and he will always be welcome at Motherwell.
"He is a terrific kid. I have only known him two years but was lucky to work with him."
Murphy, applauded by Well fans at the whistle, said: "I was welling up a little bit, seeing the fans clapping me off and all the boys clapping behind me. It was something I will always remember.
"I have been at Motherwell 11 years. I have grown up as a player and a person.
"I will miss the boys in the changing room, I have a few big brothers and a few little brothers so leaving them is the hardest thing."
McCall was disappointed to leave Celtic Park with nothing but did not attach any blame to Hateley.
"The greatest players in the world miss penalty kicks," he added. "I have to say if the keeper goes the right way, he is a such a good goalie with a big frame that nine times out of 10 he will stop it.
"I don't think it is a bad penalty, I think it is a terrific save. We possibly could have had a second penalty when Forster brought Jamie down but I don't think you get two at Parkhead, it's a bit like Old Trafford."