Scottish Cup: Motherwell manager Stuart McCall embarrassed by 1-0 loss to Albion Rovers
Motherwell manager Stuart McCall admitted he was embarrassed to face his family after 1-0 loss to Albion Rovers.
Last Updated: 30/11/13 7:37pm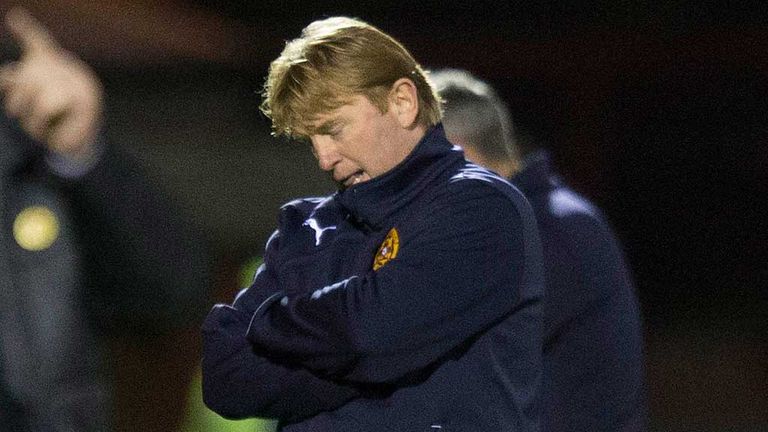 Gary Phillips' 90th minute strike sent the Coatbridge side into the fifth round of the Scottish Cup thanks to the 1-0 win at New Douglas Park.
Rovers had never beaten Motherwell outside the Lanarkshire Cup in 34 previous competitive matches and McCall found the defeat hard to swallow.
McCall said: "I've been very, very fortunate in my life, certainly in my football life for 34 years now, I can't recall being on the end of an upset anything like that.
"I know they happen in football and you see them happening and you think hopefully that will never come to your door. But it certainly came today and I take full responsibility."
"What can you say to the fans? They are right to have a go. It's one of the worst results we have had. I've been very fortunate since I've been at the club to have had loads of highs.
"Obviously there are disappointments too but this is the worst. You can't do anything but apologise because it's an embarrassing result for the club.
"To be honest I would rather sit here and speak to you for a few hours because I don't really fancy going home and speaking to my family or my friends because it's horrible. There is no getting away from it.
"It was just down to lack of quality. Give Albion Rovers full credit for the way they defended but our possession was woeful at times. We had plenty of it and we just couldn't break them down."
Rovers manager James Ward said: "We have a young team and getting them to do the right things and the simple things all the time is quite frustrating.
"But today we had a game plan and they stuck to it and every one of them did what they were asked to do.
"I think their desire and endeavour in the end got them what they deserved and that was a victory.
"You can wait long enough for these days to come along so I think we will make the most of it and enjoy it."