Scottish Premiership: Motherwell boss Stuart McCall targets second spot in table
Stuart McCall says the financial boost for finishing second in the table is a major incentive for his Motherwell side.
Last Updated: 01/04/14 7:04pm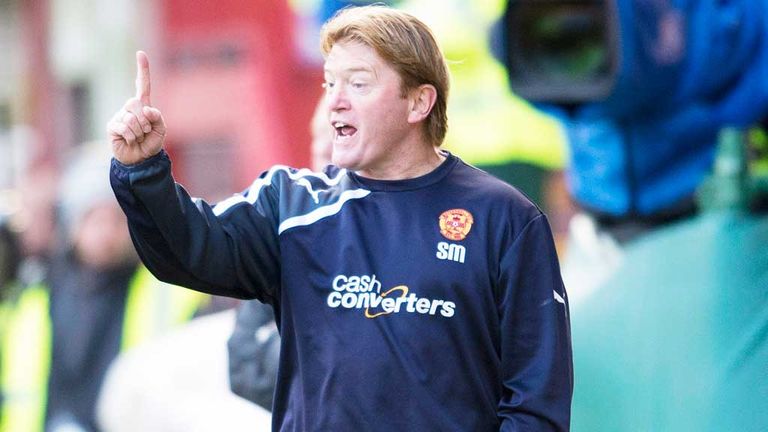 With seven games remaining, the Steelmen are currently third in the table, just two points adrift of Aberdeen.
Dundee United are three points behind Motherwell for whom their manager is especially keen for his players to push for second spot where they also finished last season.
However, despite playing in the Europa League in five of the last six seasons, the Fir Park club have struggled to make much of a profit from their overseas adventures.
So with £240,000 the difference between finishing second and third, McCall understands the importance of being runners-up this campaign.
He told The Scotsman: "It's more about the prestige for the players and myself but obviously the financial aspect is important for the club.
"Our budget will reflect where we finish in the league this season. The difference between finishing second and fifth - and we could be in any of those places - is a significant amount.
"Where we finish will affect the players because, hopefully, we will be able to give them what they are looking for financially."
Motherwell will overtake Aberdeen - for 24 hours at least - if they beat Inverness Caledonian Thistle on Tuesday.
Despite often suffering financial losses from playing in the Europa League, McCall is still keen to qualify for the competition.
He added: "If we finish in any European spot then I think this season will have been a success. But, while the opportunity is there, we have to strive to finish as high as we can.
"You hear Dundee United and Inverness talking about pushing Aberdeen all the way so we have to be in that mindset as well."
The other advantage of finishing second rather than third is that the squad will enjoy a longer summer break.
Finish second and the Euro campaign will start at the second qualifying round stage on July 17, while third means an opening fixture 14 days earlier.
McCall went on: "That's another way to look at it. The possibility of a longer holiday and maybe a couple more quid."