Stuart McCall blames referee as Motherwell succumb to late defeat at St Mirren
Motherwell manager Stuart McCall was left in no doubt about who to blame for his side's 3-2 defeat at St Mirren.
Last Updated: 05/04/14 7:00pm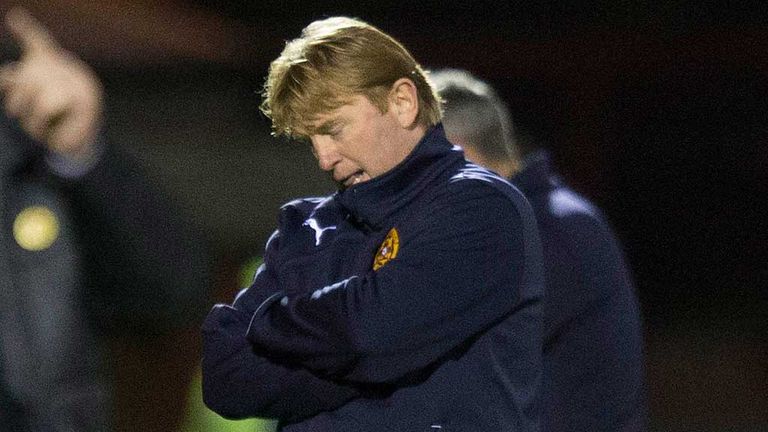 McCall's side were 2-1 up with four minutes remaining when Stephen McManus was penalised by referee Iain Baines for handling a ball that he insisted hit his face.
Kenny McLean then dispatched the penalty before Steven Thompson fired home the winner 60 seconds later, leaving McCall furious with Baines, who was initially the fourth official for the game but came on at half-time when starting referee Euan Norris was forced off with a knee injury.
"A long ball came at the back post and the ball hits Stephen in the eye socket and the bridge of the nose and flies out to the edge of the box, and the crowd shout," said McCall.
"The linesman, who is looking right at it 12-15 yards away, nothing. The referee, from I think 30 yards away at the other side of the box, gives a penalty.
"Stephen doesn't rant and rave about things. He is an honest guy. Obviously his arms are up when he has jumped but it has hit him flush in the face.
"That decision alone has cost us three points because I felt, as the game was petering out, we were not only quite comfortable defensively, but I felt we were going to hit them on the break. We had seen the danger out."
McCall questioned Brines after the game.
"He gave the decision, he felt it was handball," McCall said. "They are honest guys, they give what they see or what they think they see. But I think when you give a decision like that, you have got to be 100 per cent sure.
"That's all managers tend to do after games, moan about decisions. But maybe I'm too nice and don't ring (Scottish Football Association head of referees) John Fleming and send him letters, but some of the things that have gone against us this season have been quite alarming. But that puts the icing on the cake."
The victory propelled St Mirren out of the relegation play-off spot and manager Danny Lennon felt it was deserved.
Speaking of the penalty decision, he said: "I haven't had the chance to see it but if we have got that bit of fortune, then the only thing I can say is that it's overdue."
And he claimed he could see his side coming back from two goals down.
"I did because bizarrely enough I thought it was against the run of play that we conceded two goals," he added.
"I'm very disappointed in the manner we conceded the two goals and that's why we have been flirting at the bottom of the table because we leave the back door open.
"But at set plays we always looked a threat, McLean's deliveries were superb. We managed to get the goal at the right time and that lifted us.
"I thought we kept the ascendancy going without getting the rewards."