Scottish Premiership: Stuart McCall says Motherwell have exceeded his expectations
Motherwell manager Stuart McCall says his side have exceeded his expectations this season.
Last Updated: 17/04/14 11:35am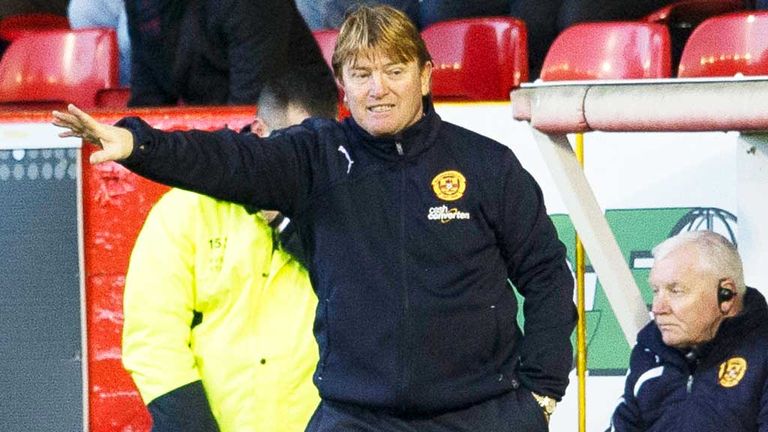 McCall's side currently occupy the last of the Europa League qualification spots in third but just three points behind current second-placed side Aberdeen with five games left to play.
This weekend, Motherwell are live on Sky Sports in a home game against Celtic, who have dominated Scotland's top division this season and were crowned champions three weeks ago.
When asked by Sky Sports News if he had anticipated his team to still be challenging for second at this stage of the season, McCall replied: "No, not at all, I have to be honest.
"I think everybody knew Celtic would win and they have done a magnificent job. If they win four of their last five games they end up with 100 points, which is terrific.
"I always thought Aberdeen, with the squad they have, would be up there and if we finished above them we'd get a European spot. And that will be the case."
Motherwell suffered a blow in their last game when two late goals by St Mirren - the first of which came from the penalty spot following a controversial handball decision - consigned them to 3-2 defeat at St Mirren Park.
They now host Celtic, who recorded a 5-0 win at Fir Park back in early December, on Saturday.
McCall, though, is drawing confidence from the fact that Motherwell have also beaten Celtic at home three times in the last three seasons.
"We got beat in the last game against St Mirren with a dubious handball but that is one of those things that can go against you at key times," said McCall.
"We are up against top, top players on Saturday in Celtic and if they are at the top of their game, as they were last time we played them here, it will be difficult.
"We've managed to beat them the last three times in the last three seasons here so we will hang on to that and take confidence.
"We've not just got to try and curtail what they have got, we need to try and create something ourselves. It is always a balancing act when you play a top side."
McCall also dismissed suggestions that Celtic would be complacent going into the game, having already secured the title.
"Celtic have got many records to go for," he added.
"They have only conceded 17 goals and the record in one season is 18. Obviously, there is also the points tally as I don't think anyone has got 100 points.
"They are driven on by some good professionals as well so I don't see them being complacent for a minute."
You can watch Motherwell host Celtic live on Sky Sports 2HD from 12.30pm on Saturday.