Stuart McCall feels Motherwell are ready for Europa League tie with Stjarnan
Last Updated: 12/07/14 9:44pm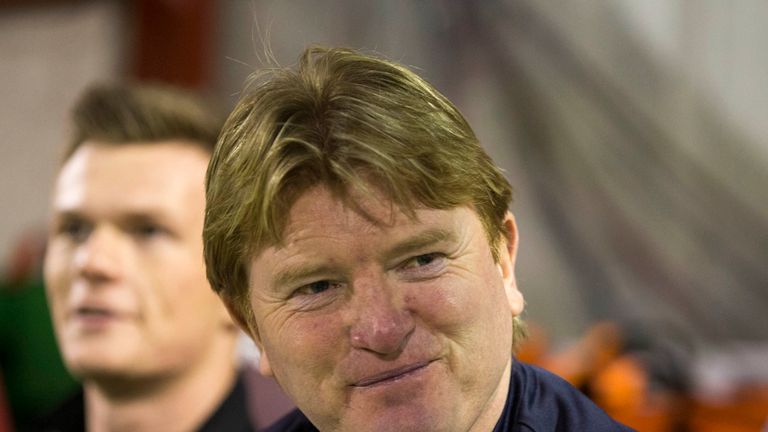 Motherwell manager Stuart McCall says his side are relishing the thought of their Europa League tie against Icelandic side Stjarnan, despite losing their first pre-season game to Fulham on Saturday.
The visiting Championship side won 2-0 with a header from Cameron Burgess in the first half and a second from Kostas Stafylidis after the break.
McCall told Sky Sports News: "You never enjoy losing football games, but we took a lot out of today.
"I'm really pleased with a lot of aspects. Obviously I was disappointed in the first goal and the second goal was individual error but, as I say, there's a lot to take out of it for us."
The Motherwell players have had a shortened summer break in order to return to training for the Europa League, but McCall says it has all been taken in their stride.
Motherwell play host to Stjarnan on Thursday in the first leg, and McCall added: "It won't be an excuse for us, that's for sure. We've trained hard, we've worked hard since we've been back in.
"We'll be focusing, we'll be ready and if we can produce the attacking like today I'll be more than happy.
"We really are relishing and looking forward to it."
After a handful of departures over the summer, fundamental to Motherwell's season will be the introduction of a few new players - but not before Thursday.
"We certainly need a striker. We're looking for a quick striker and probably a centre-half as well," he explained.
"We're looking to bring two faces in - not before the European tie but before the league season starts."
McCall also revealed David Clarkson will not be returning to the club; the 28-year-old had been training at Fir Park after leaving Bristol Rovers.
"David is no longer with us," McCall said. "He trained well and is a decent lad, but he's not exactly what we're looking for."