Scottish Premiership: An injury-hit Motherwell side pleased boss Stuart McCall
Last Updated: 12/08/14 10:50am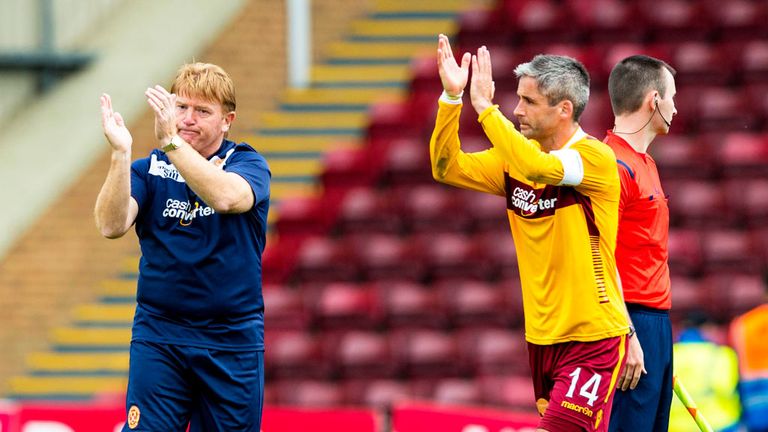 Motherwell manager Stuart McCall admits his side may have been a little fortunate to beat St Mirren 1-0 at Fir Park.
However, McCall was proud of the way his injury-hit team dug in and managed to secure the three points.
Goalkeeper Dan Twardzik was excellent for the hosts, who triumphed thanks to a 64th-minute goal from striker Lee Erwin, who was making his first start.
And St Mirren had assistant coach Jim Goodwin sent off for a second yellow card, which left the recipient shocked and the spectators confused.
McCall said: "We had a lot of quality missing and we've not replaced the three lads we lost at the end of last season (James McFadden, Henri Anier and Shaun Hutchinson).
"I wouldn't be making excuses if we lost, but I can say it now we won. It's been a tough week and three of the lads who started hadn't trained since the Stjarnan game.
"Did we deserve to win? Probably not.
"But, because of what we have gone through during the week, we said to them that the important thing was the result.
"We lacked a little bit of quality in certain areas but things will get easier in the coming weeks, when some of the injuries clear up and we get new faces in.
"I wouldn't say it was a case of smash and grab. There were a lot of our players under par but you have to dig in and find a way.
"And it was a terrific debut from Lee Erwin. I'm really pleased he scored the goal and he looked dangerous all day."
Frustrated St Mirren boss Tommy Craig asked: "Can anyone tell me how we lost that game?
"If I was going to ask my team how to perform in the next game, I would ask them to give a repeat of that.
"For the majority of the game we dominated.
"I could cut my tongue out, because I said beforehand how good Motherwell are at getting results when they are not playing so well.
"Stuart has done this over the last three or four years, and you have to say well done.
"That's what we need. To go with our performance, we need that resilience to carve out a result.
"My beef with St Mirren for a long time has been that they don't normally win games they don't deserve to win.  Motherwell showed that determination and resilience to hang in.
"If we can add to what we were trying to do with passing the ball, then we will be fine.
"The players proved they are right behind me.
"They looked like a team and I'm enthusiastic and excited about the season ahead. I want supporters to enjoy what they are seeing."
It turned out Goodwin received a second yellow because assistant referee Frank Connor spotted an infringement in a challenge for a high ball.
Craig said: "I'm not interested in talking about referees, I honestly don't see the point. I will talk to Jim about it later."