St Mirren chairman Stewart Gilmour hits back in league reconstruction row
St Mirren chairman Stewart Gilmour claims Celtic's offer to alter the SPL's voting structure was not serious.
Last Updated: 16/04/13 5:50pm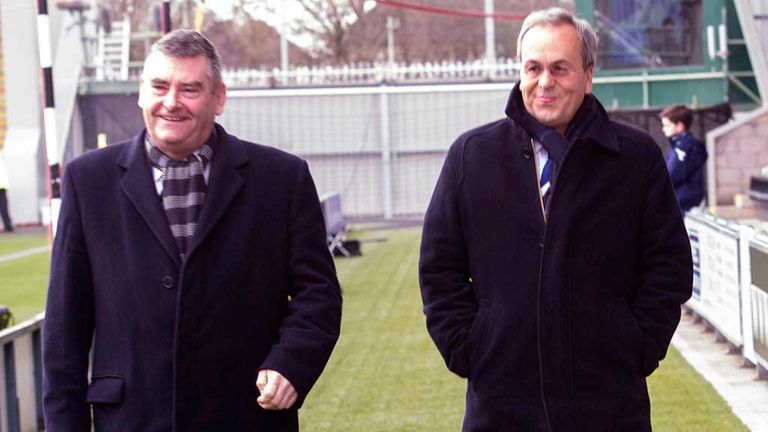 Gilmour was one of just two chairmen, along with Ross County's Roy MacGregor, to vote down plans for league reconstruction.
The plan would have seen the SPL and three Scottish Football League divisions merge into a 12-12-18 set-up.
Hearts chief executive David Southern revealed after the Hampden meeting that Celtic had offered to do away with the 11-1 majority for votes on league reconstruction in a bid to push a deal through.
Southern called the move a 'significant compromise', while Aberdeen chairman Stewart Milne called Gilmour 'selfish' and unable to explain his motives.
But Gilmour rejected the claims, insisting the offer was a desperate attempt to push through the proposals.
He said: "We have been against the 11-1 voting structure for a long time. It was suggested at the meeting that they would cherry-pick one piece from the votes requiring an 11-1 majority and replace it with a 75 per cent majority.
"But that was only as a means of getting their proposal passed. That was totally unacceptable to St Mirren."
And Gilmour also rubbished suggestions his decision to block the proposal had anything to do with fast-tracking Rangers through the leagues in Scotland.
"It's ridiculous," he said. "This is a club that voted Rangers into Division Three and voted a director (Ken McGeoch) off our board because of alleged links to Rangers.
"We are also a supporter of a 42-team solution, not an SPL2, and that would therefore have no short-cut for Rangers back to the top-flight.
"Where somebody would get the idea that we were doing this to help Rangers is beyond me."