Transfer News: Midfielder Conor Newton considers Celtic move
Newcastle youngster Conor Newton would love to join Scottish double winners Celtic but will not hold his breath.
Last Updated: 04/06/13 5:10pm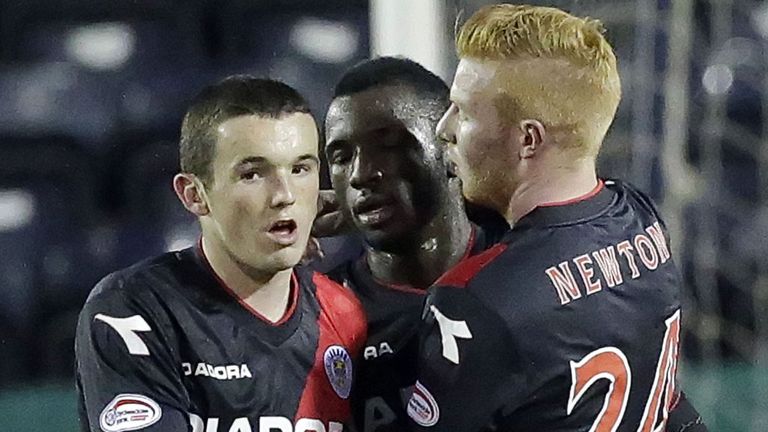 The youngster spent the second half of the season on-loan in Paisley from Newcastle but is now out of contract.
He and best friend Paul Dummett, who was loaned to the Buddies for the entire season, have both been offered one-year extensions by United boss Alan Pardew.
However, the agreement has yet to be signed and reports have suggested that Neil Lennon would like to add the pair to his squad for next season.
Left-back Dummett arrived in Scotland last summer and made 35 appearances for Saints, while Newton turned out 19 times for the League Cup winners after arriving in January.
He scored his first goal for the club in the victory over Hearts at Hampden that secured Saints' first major trophy in 26 years but the likelihood is that both players will be sent out on loan once more should they extend their Newcastle deals, with English Championship sides Bolton, Huddersfield and Doncaster all interested.
Newton said: "I haven't signed on with Newcastle yet but there is a deal on the table. I need to have a proper look at it once I get myself together.
"The past six months is probably the most football I've played in my career so far so I just need to rest up for a few weeks. I understand there is an offer from St Mirren as well so that is definitely still a possibility."
He added: "I'd like to have made my decision within the next two weeks as the start of the season isn't far off.
"It's a big decision on whether I stay with Newcastle or move on. I've been there since I was nine years old and if I am to move on, it will be a massive thing for me.
"I went out to Hong Kong for a tournament with the Newcastle lads after the season ended with St Mirren and it was great being back in amongst them. I've missed the banter.
"But I don't think there is much chance of me getting regular football at Newcastle next season. They plan to sign us and then put us straight back out on loan again.
"I just need to weigh up my options."
Newton also insisted that he and Dummett do not necessarily come as a pair after numerous reports suggested the duo will both end up at the same club next term.
"That just seems to follow on from the novelty of two lads from Newcastle going up to a small club in Paisley," he added. "We've known each other since we were wee lads but there is every chance we could go our separate ways. Football is a funny game in that sense.
"It will be tough but Paul is a good player. I know wherever he goes, he will make a massive impact but if there is not a place for me there, or not a place for him at the club I move to, we will just have to say goodbye."