SPL clubs to discuss finances
SPL chief Neil Doncaster says all 12 top-flight clubs will meet on Monday to discuss existing rules relating to financial fair play.
Last Updated: 02/03/12 4:35pm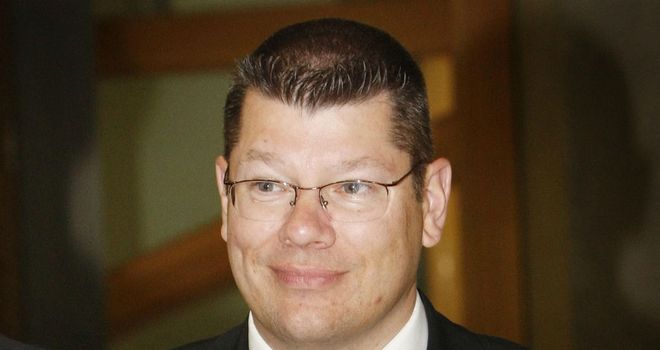 Scottish Premier League chief executive Neil Doncaster has revealed all 12 top-flight clubs will meet on Monday to discuss existing rules relating to financial fair play.
On the agenda will be a debate over whether changes have to be made to the rule book, which could mean "tougher" rules being rubber-stamped at a general meeting.
Rangers were forced into administration on 14th February over an unpaid tax bill of £9million accrued since Craig Whyte's takeover. The financial crisis at Ibrox has already had an impact on other SPL clubs.
Dunfermline are owed £84,000 in ticket revenue from their match with Gers on 11th February and revealed on Thursday they had to part pay the club's February salaries to all staff, including management and players, with the remainder to be paid within 10 days.
Issue
Doncaster wrote in his blog on the SPL's official website: "It is important that we keep the whole issue of financial fair play firmly in the spotlight.
"Improving our rule book and making it less likely that our member clubs end up in financial difficulty in the first place should continue to be a priority.
"And with this in mind, all 12 SPL member clubs will meet this Monday.
"On the agenda will be our existing rules on financial fair play and whether our current rule book needs improvement in the face of the financial challenges being faced by several member clubs.
"If agreement in principle is reached, this could mean our clubs voting on new, tougher, rules on financial fair play at a general meeting, either in April or July this year.
"It will be a difficult debate. But it is vital that we do not shy away from these issues or bury our heads in the sand.
"It may be uncomfortable to address these thorny problems head-on. But the long-term health and prosperity of Scottish football demands that we do just that."
Logic
UEFA's financial fair play regulations require clubs to balance their books over the medium term, not spend more than they earn, and operate within their financial means.
"Whether the precise system of measurement used by UEFA is perfect is a moot point," Doncaster added.
"But the logic behind the principle however is, I think, broadly sound. And it is this same principle that explains the position of the SPL.
"To turn a blind eye, to allow clubs to continually fail to make prompt payments as they fall due, would be to allow those clubs to gain an unfair sporting advantage over all those other clubs that pay their players, the taxman and other clubs on time.
"That is one of the reasons why, whenever the SPL receives a request from players to adjudicate on their contracts, it has a duty to do so.
"The fundamental basis of any football league is that all member clubs are treated equally."