French side Montpellier won't be appointing Diego Maradona as coach
Montpellier chairman Louis Nicollin has ruled out appointing Diego Maradona as their next coach.
By Patrick Haond
Last Updated: 11/03/13 10:54am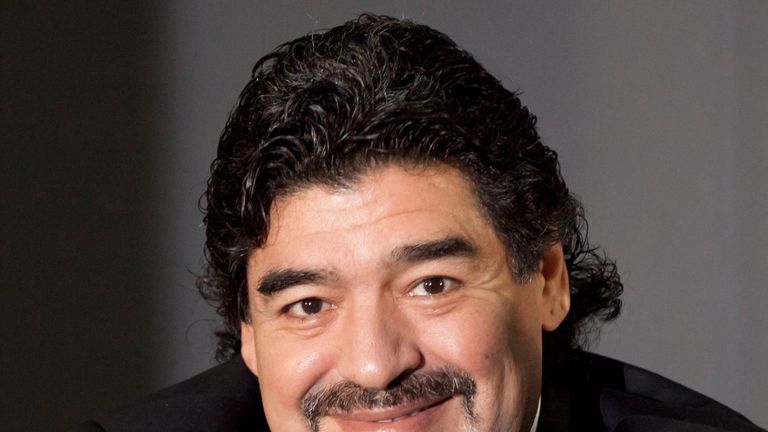 Current boss Rene Girard is out of contract in the summer and looks set to leave, which has left Nicollin with the task of finding a replacement.
Maradona had an interest and Nicollin opened talks about a possible deal for the Argentine legend, who is currently working as a global ambassador for the Dubai Sports Council.
However, the Montpellier chairman says that he has pulled the plug because so many people became involved.
"No, Maradona won't come. I am fed up with all that," he told L'Equipe.
"It is impossible to talk with one manager. There are seven and now eight since yesterday. That is impossible! I have signed Argentinian players but I never had to talk with four agents. I don't like that at all so I have stopped all that.
"If I knew this, I would have never started all that. However, I really wanted to sign him. Obviously it would have been great. Anyway, I think it would have not been possible because he demands a lot of money."
Nicollin says he is yet to decide on who will be in charge next term, adding: "I haven't signed anyone so far. My current coach is still at the helm. He is doing his job. But I have met some, step by step."
Despite his interest in Maradona, Nicollin now says he is likely to appoint a Frenchman to replace Girard.
"I will sign a French coach. That is better, isn't it? Jean Fernandez? I don't know. I didn't really meet him. We need some time.
"There is Antoine Kombouare too. He is supposed to be a lovely man. We will talk soon. But frankly, I would be surprised if he would come to La Paillade.
"Laurent Blanc (educated at the club)? I didn't think about him. He is not the style of man to come at La Paillade. Anyway, I would not ask him because I believe he would refuse to come."