PSG say action may be taken against Joey Barton for Twitter remarks about Thiago
Joey Barton has been criticised by PSG after he used Twitter to make dubious remarks about Thiago Silva.
Last Updated: 04/04/13 12:54pm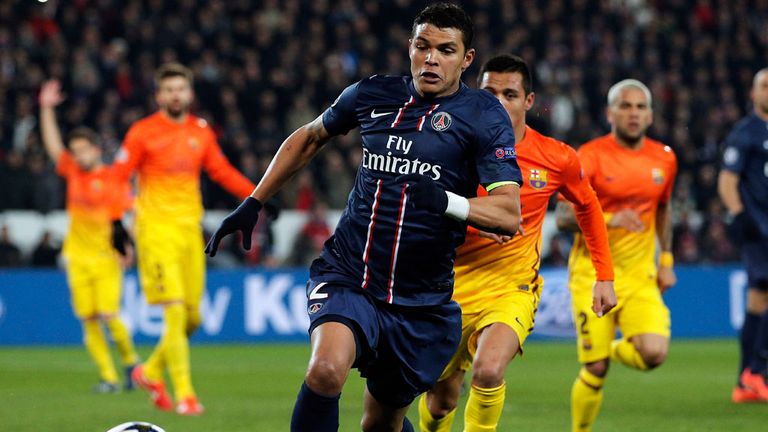 Barton, on loan at Marseille from QPR, apparently took exception to comments Silva made to French newspaper L'Equipe on Monday which appeared to be aimed at him.
The former England international did praise Silva's display for PSG against Barcelona on Tuesday night but added "still looks like a overweight ladyboy though!".
And Barton went on to question whether the Brazilian was "pre-op or post-op".
Ligue 1 leaders PSG, who drew 2-2 with Barca in the Champions League quarter-finals, have published a statement on their website which read: "In the last few hours, on social networks, unacceptable remarks have been made by Olympique Marseille player Joey Barton against Paris St Germain player Thiago Silva.
"These attacks are serious and go beyond mere verbal jousting. The directors of the club, the players and the coaching staff are supportive of Thiago Silva, and cannot accept such statements.
"They reaffirm their unwavering commitment to the values of respect that should govern our sport.
"Thiago Silva and Paris St Germain reserve the right to take any action they deem necessary."
Marseille later released a statement on their website saying they were sorry about Barton's remarks.
It read: "Olympique de Marseille and Joey Barton are keen to apologise to Thiago Silva and his club for the inappropriate comments made by the English player on social networks during the past 36 hours.
"This morning the management asked Joey Barton to put an end to the attack on PSG's Brazilian defender.
"The Marseille midfielder pledged to immediately cease the posting of anything derogatory about Thiago Silva."