Ligue 1: Sochaux coach Eric Hely steps aside after winless start
Sochaux have accepted the resignation of coach Eric Hely in the wake of the club's poor start to the new Ligue 1 season.
Last Updated: 26/09/13 4:25pm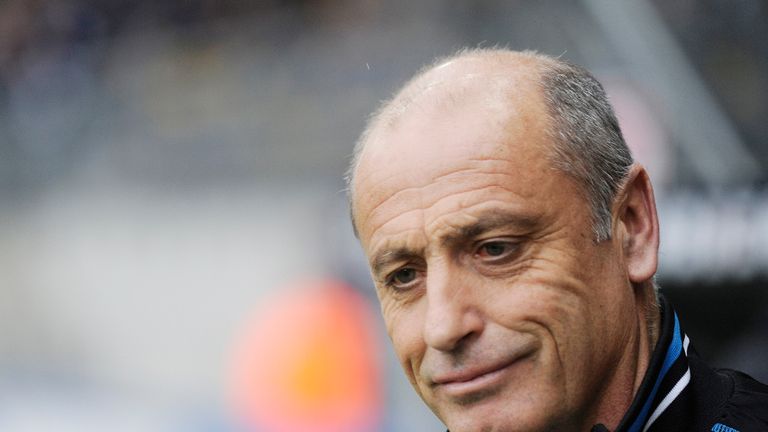 Hely offered to leave his post in the aftermath of Wednesday evening's thumping 5-1 defeat at promoted Guingamp.
Club president Laurent Pernet confirmed on Thursday that although Hely will stand aside, he will remain in the managerial set-up in another capacity.
"Eric Hely presented his resignation as head coach on Wednesday, September 25, after the defeat against EA Guingamp. Given the current results, the executive club president Laurent Pernet accepted the resignation," a statement on Sochaux's official website read.
"FC Sochaux-Montbeliard would like to acknowledge the professionalism of Eric Hely over many years at the club and especially the last two seasons where he was actively involved in keeping the club in the top flight."
Pernet added: "Eric Hely remains at the club in a function to be determined, and will continue to give us the benefit of his experience and expertise.
"I salute this man of courage. His professionalism and commitment are a strength for the club."
Sochaux's statement added that the new coaching team would be "communicated shortly", with a press conference scheduled for Friday.
Pressure had been mounting on 48-year-old Hely in recent days, with the Montbeliard side bottom of Ligue 1 having collected just two points from their first seven games.
A section of the club's fans called for his head during Saturday's 2-0 home defeat to Lille, and Wednesday's heavy reverse proved the final straw.
"It's been 20 months since I began fighting, alongside the coaching staff, players and managers," Hely was quoted by L'Equipe as saying at Wednesday's post-match press conference.
"I saved the club twice but tonight, in the interest of the club, I have submitted my resignation."