Ligue 1: Valere Germain to deputise for injured Monaco star Radamel Falcao
Valere Germain is set to deputise for Radamel Falcao after scoring in Monaco's 2-0 win over Marseille on Sunday.
Last Updated: 27/01/14 11:18am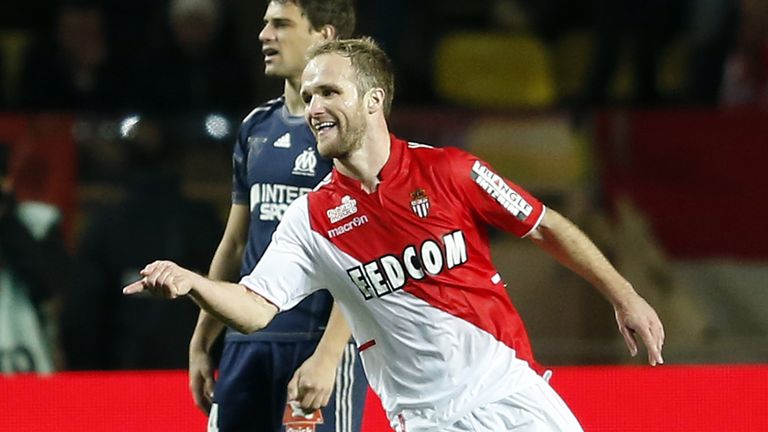 Unexpectedly shorn of the services of his 11-goal striker Falcao, who risks missing the World Cup after seriously damaging his left knee, ASM coach Claudio Ranieri turned to academy graduate and squad player Germain to partner Emmanuel Riviere against south coast rivals Marseille.
The selection paid dividends with Germain scoring before half-time and Riviere rounding out the victory that moved Monaco within three points of Ligue 1 leaders Paris St Germain.
The title rivals next meet in the principality on February 9.
Colombia's Falcao has undergone successful knee surgery in a Porto hospital and, after receiving a very public 'Get Well Soon' message from his team-mates, he will be further buoyed by seeing the team remaining in good touch on the pitch while he recovers.
Ranieri was also impressed and hopes 23-year-old Germain can further develop an profitable connection with Riviere.
The Italian told L'Equipe: "We played well against a good Marseille side, even though the team aren't in good physical condition at the moment.
"Germain and Riviere, with James (Rodriguez), worked hard for the team, which was very organised.
"Germain is a good player and while we're without Falcao, he'll stay in the team."
Monaco's player donned shirts bearing the message 'Fuerza Tigre!' (Come on Tiger!) on top of their kit before the match at the Stade Louis II and 60million-euro striker Falcao soon tweeted from his hospital bed in gratitude.
He wrote: "'From Porto watching the team. Thank you for giving me the strength, I'm here to give you mine!"'
Ranieri, too, was pleased with the show of solidarity and said: "The players sent a message to El Tigre before the game. I'm sure he will be very happy with that."
It was a seventh league defeat of the season for ninth-placed Marseille, who are looking a shadow of the side that won the French championship in 2010.
OM caretaker boss Jose Anigo can, however, look forward to overseeing three consecutive home games against Valenciennes, Toulouse and Bastia as he plots his side's revival.
"We are not happy (with this result)," he said.
"We have seen a difficult period become more complicated.
"But we have seen worse things happen to Marseille.
"The sooner we get out of this slump, the better for the club. What is important is that the players are confident in their own ability. I'm sure that will come.
"If we win our game in hand we will recover our previous position (of fifth).
"We will make good use of that wildcard."