Everton and Monaco in talks over future of on-loan striker Lacina Traore
Roberto Martinez has revealed Everton and Monaco are in discussions over the future of on-loan striker Lacina Traore.
Last Updated: 27/02/14 11:51am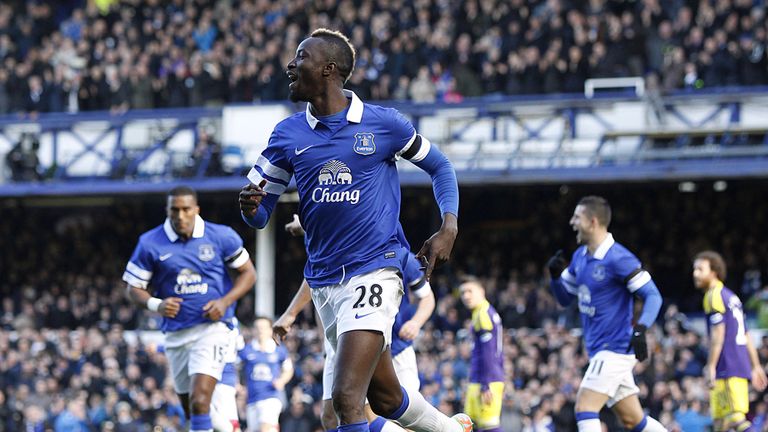 Traore, 23, could require surgery on a hamstring injury which would cut short his stay at Goodison Park following his loan move from the French side in January.
The Ivory Coast international, who arrived at Everton with an existing hamstring problem on his other leg, has featured in just one match for the club so far, scoring and playing 61 minutes against Swansea in the FA Cup on February 16.
He was withdrawn from the starting line-up at Chelsea on Saturday after reporting a problem during the pre-match warm-up.
"It is important we are working together with Monaco and what we need to get right is the player gets the perfect treatment: when I say the perfect treatment, this is not a straightforward injury," said Martinez.
"Lacina had a previous injury a few months back but he was fully fit and without fatigue - because obviously in the warm-up you don't incur any fatigue - so that injury is a bit of a worry.
"The injury can be solved by conservative treatment or it can involve surgery - that is a massive decision.
"Depending on what route we are going down is going to have certain consequences.
"It could mean Lacina could play for us again or if he can't - it's a bit too early.
"You get to a point where if it is only going to be a matter of three or four weeks we want Lacina to be here until the end.
"If it is going to be any longer than two or three months then the loan period is over."
Another on-loan striker, Romelu Lukaku, is set to return to action in the home game against West Ham on Saturday after being sidelined for a month with an ankle injury.
"This has been the most demanding season personally in his career," Martinez said of the Belgium international, who is on loan from Chelsea.
"The injury has come at a good moment as it has refreshed him and he is desperate now - if you see him in training you see the Romelu we saw in the first week of training."
Lukaku is due to return to parent club Chelsea at the end of the season and Martinez said there had been no discussions about keeping the striker for the longer term.
"The only thing we are interested in is Romelu's development, and that is where we get the rewards of an outstanding footballer who can make a difference on the front line," the Toffees boss said.
"The final 10 weeks is where you can control the small margins and he is in the perfect frame of mind to be as good as he can be."