Helena Costa becomes new coach of French Ligue 2 side Clermont Foot
Helena Costa has become the first woman appointed to coach a men's team in the top two tiers of a major European league.
Last Updated: 07/05/14 4:20pm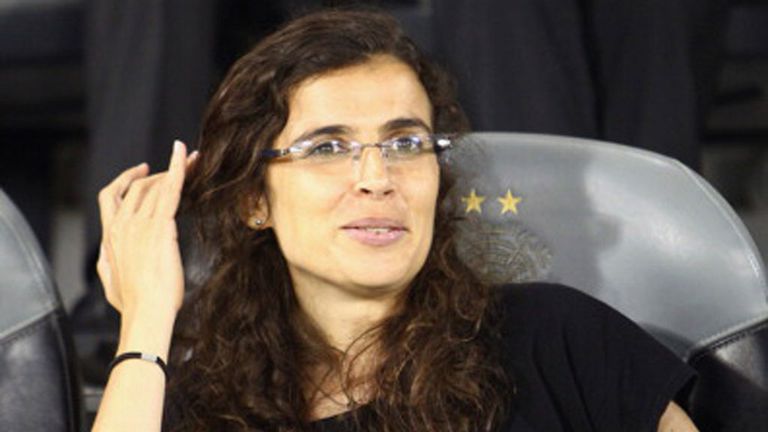 Costa becomes the first female head coach of a team in the top two divisions of one of Europe's major five leagues.
The 36-year-old is the current boss of the Iran women's team and has previously managed the Qatar women's team.
Costa, who hails from Portugal, has previously coached youth teams at Benfica and has scouted for Scottish Premiership champions Celtic.
She will take over from Regis Brouard next season after the 47-year-old decided not to extend his two-year stay with the Auvergne-based outfit following their 1-0 defeat at home to Dijon on Friday.
"Clermont Foot 63 has chosen Helena Costa to be our new coach," the club said in a statement.
"Helena Costa came through the ranks at Benfica before taking charge of the women's teams at Odivelas, then the national teams of Qatar and Iran, in addition to working as a scout for Celtic.
"This appointment will allow Clermont Foot 63 to begin a new era, relying on a group of 17 players currently under contract, which will be added young players from the club."
Costa's move appears to have been greeted with enthusiasm by many of Clermont's players.
Striker Remy Dugimont said: "She has already worked alongside men in the professional world (of football) so she knows how it works.
"No one has any experience of this, sure, but if it's worked elsewhere, why wouldn't it work here? Of course it will feel a bit strange at first, but that will only last a few days."
Clermont defender Anthony Lippini added: "I spoke to the physio about it, and we spoke about the time when the first women entered into the army, which was a very macho environment.
"It was a shock at first but, now, women in the army has become normal. It might become the same in football. I can't wait to start the season to discover this. I'm really curious."
In a statement, Celtic said: "We would like to congratulate Helena sincerely on taking up this new role.
"She did an excellent job for us and we know she will give her new position the same high level of commitment and dedication which she gave to Celtic."
Marianne Spacey, assistant manager of the England Women's Team, said women breaking into men's football is a personal decision, and Costa's appointment is a good decision by the club.
"People are saying that it's a 'brave' decision by the club to hire a woman, but they believed in the person. They did not see the gender, but the qualifications.
"I think we get a bit blinkered with the thought that there has to be a man in the men's game and a woman in the women's game.
I think it's got to the right person in the right game at the right time."
In the late 1990s and early 2000s, France had Nelly Viennot as the first woman to be assistant referee in an elite match. Viennot also served as assistant referee in Champions League games.
Carolina Morace is the only other female to coach a professional men's team in Europe. She was in charge of Viterbese in the third tier Italian football but she only lasted two matches.
Clermont currently lie 14th in Ligue 2 with two matches of the season remaining.