The Beckham problem
David Beckham's transfer to Paris St Germain stole the show on deadline day. There has been plenty of speculation regarding the merits of the deal but Adam Bate wonders whether the biggest problem for the world's most marketable man will be working out when to retire.
By Adam Bate - Follow @GhostGoal
Last Updated: 01/02/13 3:49pm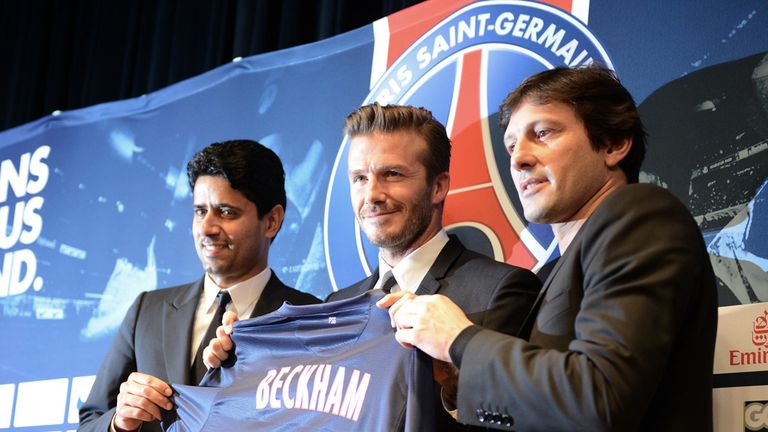 There's an old story about former Wham! star Andrew Ridgeley being asked at the height of his fame whether he was worried that girls just wanted to be with him because he was Andrew Ridgeley. "Not really," replied the pop star. "I am Andrew Ridgeley." One can only hope David Beckham has a similarly relaxed attitude to his footballing suitors at this stage of his career.
That Beckham is in demand is not in doubt. "I was honoured by the other offers I've had from other Premier League teams," he revealed at Thursday's deadline-day press conference following his decision to sign for Paris St Germain. What will be slightly troubling for many football fans are the motives behind all these offers.
The Paris presser was certainly different. Not for Becks the tracksuit option or the now-obligatory T-shirt with a scantily-clad female adorning the front. And it's difficult to believe that this was a deal thrashed out in a Portuguese chicken establishment. More Peri-Peri, Carlo? Don't mind if I do, Leo.
Business
Of course, there's nothing at all wrong with that. But the sight of Beckham in his bespoke suit only added to the sense that this was a transfer in which business interests were never far from the agenda. And that's the source of the cynicism from many pundits. Beckham should be congratulated for the wonderful gesture of donating his salary to charity. And yet, the open secret is that these figures represent the phoney war. The real battle between club and player will be over those image rights.
There can be no doubt PSG's Qatari owners are acutely aware they are getting far more than a footballer here. This is a global icon and a marketing monster who touches spheres even the world's most popular sport cannot otherwise reach. His mere presence at the Parc des Princes confers a certain status on the club. It provides a prestige and allure that the breathtaking brilliance of Zlatan Ibrahimovic never can. If these sound a little too much like meaningless buzzwords, let's clarify: Beckham equals money.
Such is the man's fame that we are in unprecedented territory here. And for the player himself that presents a new problem. Listen to retired footballers reveal the details surrounding the end of their playing career and the anecdotes are depressingly similar. It was the injury. I was the first to know. I didn't have that same zip.
What they rarely admit is that, more often than not, there were plenty of hints and clues coming from elsewhere too. Beckham's old friend Gary Neville is an intelligent individual and was well aware his powers were fading. But being hauled off at half-time in his penultimate game at Stoke before being subbed again in a calamitous last appearance at West Brom must have helped make up his mind.
As performance declines, the appearances - and the contract offers - become more scarce and less impressive. Back in 1999, Beckham finished second in the Ballon d'Or voting to Rivaldo. The brilliant Brazilian who beat him to that award continues to eke out a playing career. But without the Englishman's unparalleled marketability he scratches around for deals more commensurate with those diminishing returns. First it was Greece, then Turkey. Soon there were trips to Uzbekistan and Angola.
In contrast, the top-level offers keep coming for Beckham and the Champions League beckons for the midfielder. At 37, he becomes the oldest outfield player in Ligue 1. And so the debate shifts to discuss what sort of contribution the veteran can make with the leaders of Le Championnat. The only certainty here is that opinion will be divided.
Polarising
After all, Beckham remains perhaps the most polarising figure in football. Delve into the murky world of the comments section of this piece or others like it and before long there will undoubtedly be those suggesting his entire career has been a fraud. Others will be maintaining that Beckham 'could still do a job' for the England national team - an opinion they will presumably continue to hold regardless of trivialities such as the player's eventual retirement.
Beckham could play. The list of praise from the four Champions League winning managers he has played under - Sir Alex Ferguson, Vicente Del Bosque, Fabio Capello and Carlo Ancelotti - is surely sufficient to establish that much. But it is the question of whether he can still play that is likely to be blurred amid the talk of projects, Qatari profile-building and commercial opportunities.
"I'm very lucky," said Beckham on Thursday. "I'm 37-years-old and was presented with a lot of offers, more now than I've had in my career, and at my age."
Luck has nothing to do with it. But the problem for Beckham is working out just how much his footballing ability has to do with it too.