Inspire like Beckham
We caught up with Bocundji Ca - looking to make it to the Premier League for the sake of his country.
By Giscard Gourizro & Graeme Bailey
Last Updated: 17/04/13 6:58pm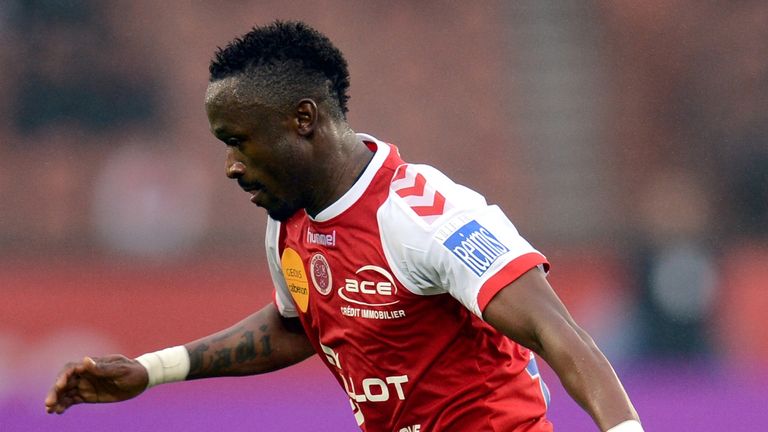 The Premier League is already home to a host of African stars and there could soon be one more. We chat with Bocundji Ca - who is hoping he can soon be lining up alongside his friends such as Yaya Toure and Cheick Tiote.
Hailing from the tiny West African nation of Guinea-Bissau it is, according to the United Nations, one of the poorest countries in the world.
Indeed with the country currently under military dictatorship, there is little for the country to grasp hold of in terms of sport - which makes Bocundji Ca's efforts so important for his homeland, where he is treated like a footballing God, not dissimilar to a Lionel Messi or David Beckham.
However, such is Guinea-Bissau's problems, they currently rarely play international matches and have not played in 2013, as they don't tend to play friendlies, which limits them to qualifiers.
And the problems in his homeland are the real reason behind Ca's English ambitions - already earning a more than good living for Reims in Ligue 1, he wants to seal a move to the Premier League to boost the Guinea-Bissau cause.
"Being the first player from my country to play in the Premier League would be so great for my country, I would be making history and I hope to realise that," Ca told us.
Boost
Ca believes a move to England would give his home nation a huge boost, at a time when it is needed.
"With my country, I have to help the people. My father and mother struggled to put food on the table for me and my sibling.
"I have lived In difficult conditions, that is why I will always give back to the people. I have people at the moment who I am taking care of and my mother is looking after them."
From the age of 13, he was snapped up by Bordeaux from where was signed by Nantes - who he made his debut for.
"I had started playing about nine in and around the streets when, aged about 13, I was spotted by someone who worked for Nantes and they took me to France. I ended up at Bordeaux but then went to Nantes.
"And it was difficult for me at first as I could only speak Portuguese and not French, but I met such players as Eric Djemba Djemba and he was great for me."
Spells with Tours and Nancy followed and he joined his current club Reims who he helped back into the top-flight with a starring role last season.
Back in Le Championnat and Ca is now attracting interest from elsewhere with Sunderland and West Ham amongst the clubs understood to be keeping close tabs on him.
Lure
And Ca admits the lure of England is a huge one.
"I would love to play In England, I have always dreamt about that since childhood," he continued.
"In Africa, the Premier League is seen as the best leagues in the world, being part of that, week in and week out is the ambition of all African players.
"Players such as Yaya Toure and Chieck Tiote has convinced me it is the League of African players.
"I have heard about West Ham and other teams such as Sunderland and I am flattered to be honest, and I am giving 100 per cent to play in the Premier League one day."
Having been described as the David Beckham of Guinea-Bissau - he has had the chance to take on the former England captain, now at PSG, this season and he is a big fan.
"David Beckham is a great star and he is a big advert for the French League, he is still a great player and I really respect him," he said.
"And yes I guess you could say I am loved like him back home, but that is good as it helps me put something back and help my country - I look at the struggles of people and realise that was me before I discovered football."