Ligue 1 preview: Milan Bisevac has his eye on the Ligue 1 title this season
Milan Bisevac has eyes for the Ligue 1 title and insists Lyon can prevent Paris Saint-Germain carrying off the trophy.
Last Updated: 01/02/13 9:47am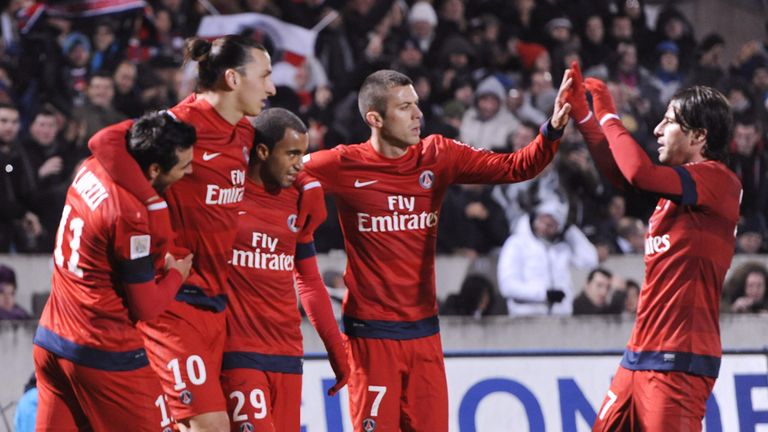 The teams stand level on points at the top of the table, with PSG having the chance to go clear of Lyon as they play first in this weekend's round of matches, taking on Toulouse tomorrow.
Lyon are not in action until Sunday, when they tackle Ajaccio.
"We have to continue to put pressure on PSG," Bisevac said. "If we don't finish on the podium at the end of the season it will be a failure. To win the title is a dream, it would be huge."
After stumbling to a draw at Evian a fortnight ago, Lyon returned to winning ways by seeing off Valenciennes 2-0 on their travels last weekend.
Another away trip on Sunday is unlikely to be a stroll, with Ajaccio scrapping for survival and entering the weekend just two points outside the bottom three.
Serbian Bisevac joined Lyon last summer from Paris Saint-Germain, and knows all about the expectations at the Parc des Princes, where the club's wealthy owners have attracted major stars including Zlatan Ibrahimovic and today's signing David Beckham.
Bisevac, speaking prior to Beckham being introduced as the big-name addition to the PSG ranks, said: "At Lyon it's a little calmer than it is at PSG.
"Here we have a great strength over them which is the history of the club and its seven titles.
"We have less money but this past is a solid foundation."
Asked about PSG goalkeeper Salvatore Sirigu's ongoing club record of 776 minutes without conceding a goal, Bisevac told Lyon's website: "I know him well and I'm happy for him but what interests me is us. It won't be easy for us at their place."
Beckham will not be involved for PSG at Toulouse tomorrow, barring a dramatic change of plan, as he has not played since helping the Los Angeles Galaxy win the MLS Cup final at the start of December.
Marseille are three points behind the front two and head to Nancy on Sunday, while fourth-placed Rennes - six points further back - go to Lorient on Saturday.
Elsewhere on Saturday, Bastia take on Evian, fifth-placed Bordeaux play Valenciennes, sixth-spotted Nice head to Brest, mid-table Lille face second-bottom Troyes and Sochaux have home advantage against St Etienne.
Last season's champions Montpellier, out of the frame this time, tackle Reims on Sunday.