Transfer news: Lyon's Bafetimbi Gomis says he won't be forced to join Swansea
Bafetimbi Gomis only wants to leave Lyon for a club that matches his ambitions, and will not be forced to join Swansea.
By Patrick Haond
Last Updated: 05/07/13 10:07am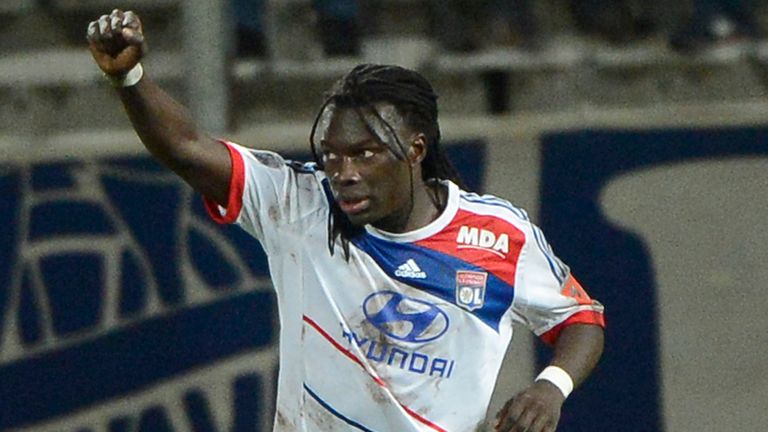 Gomis' relationship with Lyon has become strained after his refusal to move on was blamed as the reason they had to sell teenager Anthony Martial to Monaco, while he is not currently part of the pre-season training camp in the Alpine resort of Tignes.
Head coach Remi Garde has expressed a desire to resolve the row, but Gomis is disappointed with the way he has been treated and does not feel it is a good move by Lyon to freeze him out.
The 27-year-old, who has been linked with several clubs over the past few months but has most recently attracted the attention of Swansea, says he is not concerned about lucrative financial offers and wants to be at the best place for his career.
He therefore has no intention of leaving Lyon unless a more exciting opportunity comes along, and will not be pressured into going anywhere.
"Did I refuse Swansea? I have respect for all the clubs, but I can still choose my destination, can't I?" Gomis told L'Equipe.
"I want to choose but without constraint, even if I have been offered better conditions than in Lyon.
"It is not a financial matter to me. The first year, Lyon found an agreement with Fenerbahce, but it didn't prevent me from refusing. This time it is different, it is the very first time the coach told the press he doesn't rely on me.
"He didn't call me. It is not the most polite thing to do to a player who scored about 50 goals since you have been in charge. I think I deserve a bit more consideration."
Gomis added: "Two years ago I wanted to stay and they wanted to sell me to Rubin Kazan. If I have just one year remaining on my contract it is not only my fault.
"They proposed an extension, but I told the chairman we would take stock at the end of the season and if a club could attract me I would leave. Otherwise we would talk about an extension. Then in December, he told the press he was in talks with Liverpool or Chelsea, but I wanted to finish the season at Lyon.
"If I can't find a club that could offer me the guarantees I am expecting, which has the ambition I am looking for, I will stay. I will be ready to help the team.
"I will work to be ready to help if they call me. However, nobody will force me to go where I don't want to go, that is for sure. I am still at Lyon, and I am far from having already left."
Gomis admits it is frustrating to have been sidelined and has urged club president Jean-Michel Aulas to let him back into training.
He explained: "I told Jean-Michel Aulas it was not the best solution to ban me because if I don't find any club, I will return to the team in the end."