Coupe de la Ligue: PSG tackle Bordeaux in pick of this week's quarter-finals
Paris Saint-Germain's bid for the quadruple will head to Bordeaux this week for a Coupe de la Ligue quarter-final clash.
Last Updated: 13/01/14 6:00pm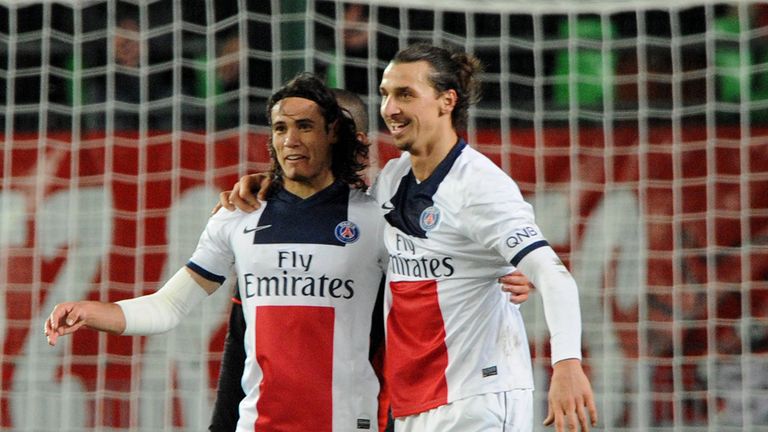 Laurent Blanc's side head Ligue 1 by five points, are Champions League dark horses and are also alive in the Coupe de France.
A trip to Bordeaux - who they are 16 points richer than in the table - is next, and defender Maxwell knows he and his team-mates need to keep their intensity levels high.
Speaking after their hard-fought 2-1 win at Ajaccio at the weekend, he said: "That win was a very important one for the rest of the season.
"We know that every match between now and the end of the season will be a tough one for us.
"We have to prepare mentally and physically for this type of match (against Bordeaux)."
A 1-0 home defeat to Toulouse has hardly given Bordeaux's players the ideal preparation to face the champions-elect, and they have scathing words from coach Francis Gillot ringing in their ears too.
"It was catastrophic. Technically, we were very weak and I don't have any explanations for that. When you don't know how to control the ball and pass it, of course the result is logical. They're the fundamentals of football. We can't do it," he said on the official Ligue 1 website.
That is the only game on Tuesday, with the other three last-eight matches taking place on Wednesday.
Nantes take on Nice with the former, sixth in the table, the clear favourites.
They beat Lorient 1-0 at the weekend and coach Michel Der Zakarian is in good spirits.
"We have climbed the table and played well (against Lorient)," he said.
"I was pleased with the goal we scored in a game that was very hard for us."
Out-of-form Evian are also in quarter-final action and must counter a tricky customer in the shape of Ligue 2 mid-table side Troyes.
With three straight losses behind them, even a home clash with lower-league opposition is hard for Pascal Dupraz's men, who are starting to feel the heat.
"We lack some rigour at the moment," he said of his players.
"We are not panicking but we must be aware. But I take hope from our squad strength not being so bad."
The final game puts old rivals Lyon and Marseille against each other. The Olympic derby takes place with the latter without a manager but in reasonable form.
They beat Evian 2-1 at the weekend and are three unbeaten and whoever comes in could take over a side in the cup semis.
Zinedine Zidane has been mentioned and caretaker boss Jose Anigo said: "It would not hurt if Zidane became the manager of Marseille. It would be a great story."
Lyon also head into the game on the back of a win, 2-0 against Sochaux.
"The second half of the season is important for us as we want to win more games," said midfielder Clement Grenier.
"We are on a good run but have had too many draws which is difficult to take."