Steve Mandanda believes that Marseille lack the class of teams like Arsenal
Steve Mandanda says the gulf in class between Marseille and their UEFA Champions League rivals has been hard to swallow.
Last Updated: 27/11/13 12:09pm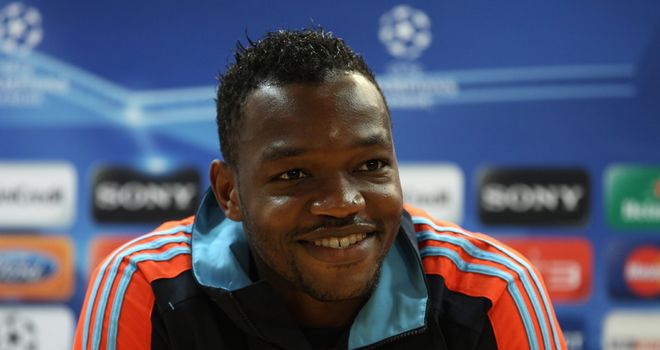 The French giants were European champions in 1993 but, 20 years on, they have lost five from five games in Group F, scoring only five times and conceding 12 goals.
Their failure to progress to the knockout stages, or even to the Europa League, was confirmed three weeks before Tuesday night's insipid 2-0 defeat at Arsenal - a result decided by two goals from England midfielder Jack Wilshere.
Goalkeeper Mandanda knew L'OM were facing an uphill battle when he watched last season's finalists Borussia Dortmund, Serie A runners-up Napoli and Arsene Wenger's Gunners being drawn against them in August, but the actual campaign has been a truly sobering experience for Elie Baup's men.
"We have seen the real difference between a team like Arsenal and us," Mandanda told L'Equipe.
"We were in a group in which the teams were much better than us.
"It's been far from our level. It's difficult to accept that, but it's the reality.
"We have to work hard. Seeing that in the cold light of day, we're not great players, we have to ask ourselves questions."
Arsenal swept into the lead after just 28 seconds when Wilshere broke clear and cut back inside to smash the ball past Mandanda.
The Gunners' sustained pressure through the second half told when Wilshere swept home Mesut Ozil's pass on 65 minutes.
To Mandanda's credit, he had earlier palmed away a weak penalty effort from the Germany playmaker and saved from Aaron Ramsey at point-blank range.
While coach Baup echoed his keeper's damning verdict on the European campaign, he still hopes for a backlash against his critics ahead of Dortmund's sixth-round visit to the Stade Velodrome on December 11.
He said: "When you put yourself in danger and concede in the first minute, that's pretty hard to take.
"The first half was difficult for us - quite laborious - but in the second half we did some interesting things.
"After the draw was made people said that we would end the group stage without a win.
"Let's see if we can make them eat their words in the final game."