Rennes coach Frederic Antonetti in contract talks after Montpellier link
Frederic Antonetti has held talks regarding a new contract at Rennes and has not been in contact with Montpellier.
By Patrick Haond
Last Updated: 24/03/13 7:38pm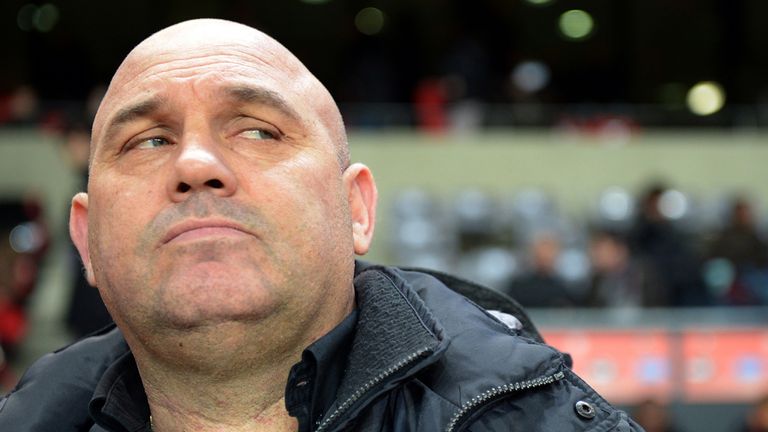 Antonetti has enjoyed four years at the Rennes helm, but is out of contract in the summer and there were previous reports of a parting of the ways.
The 51-year-old was put forward as a replacement for Rene Girard at Montpellier, but is waiting to see how discussions with Rennes progress.
"There is no direct or indirect contact with Montpellier," Antonetti told L'Equipe. "There is nothing impossible with Rennes.
"We are talking about each element, about the present and the future, with general manager Pierre Dreossi and the chairman. There is no breaking off, which is a good sign, but we need to take time to think.
"I have felt that the club wants to offer me the chance to continue for two more seasons. After four years at the club, it is very flattering, even though everything has not always been easy.
"But you cannot easily take a decision about two years of living together.
"I am aware that I am at a very good club and I have never stopped saying we have to persevere. What could make me stay is the prospect to go on working in the long term."
General manager Dreossi has suggested a decision could be made after the League Cup final against St Etienne on 20th April, commenting: "Nothing has been set so far, but indeed a decision could be made at that moment.
"Obviously, I will not wait for June to find a coach, but it is out of the question to look for a new one now. We are openly in talks and we will continue negotiating the details of the future project we want to set.
"There is no emergency. We have other priorities with Le Championnat and the League Cup final."