Paris Saint-Germain host Rennes, while nearest challengers Marseille go to Bordeaux
Leaders Paris Saint-Germain host Rennes on Saturday, while nearest challengers Marseille go to Bordeaux on Sunday night.
Last Updated: 16/11/12 8:58am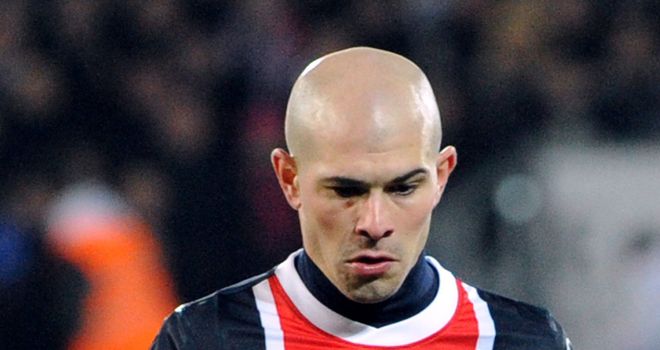 PSG right-back Christophe Jallet is confident his side can return to winning ways at the Parc des Princes.
PSG drew 1-1 away to Montpellier last weekend and will face Rennes who will be looking to win their third consecutive league match after back-to-back victories over Reims and Nancy.
This week's international friendlies saw Sweden and PSG striker Zlatan Ibrahimovic write the headlines with a four-goal haul against England which included a stunning overhead kick, but despite the disruption due to absences, Jallet thinks the preparation for the Rennes game has not been affected.
"(It has gone) pretty well, and with a few less players due to the international break. A smaller squad means we can work also work well, with some good sessions to be ready to go against Rennes," Jallet told the club's official website.
"Rennes will be coming to the Parc with plenty of ambition. They are on a good run (of two straight wins) and will be very hard to beat, that's for sure."
Jallet looks set to face one of his former PSG team-mates, Rennes striker Mevlut Erding, but hopes he will have an off day on his return to the capital.
"Just like his team, Mevlut is in top form at the moment. He's scoring in practically every game and we're very happy for him but I hope he has a quiet one against us on Saturday. And then he can keep going afterwards," he said.
QPR midfielder Joey Barton, who is on a season-long loan at Marseille, believes OM have a good chance of winning the title.
Marseille are currently second in the overall standings behind leaders PSG ahead of Sunday night's clash at Bordeaux.
Barton is yet to make his league bow as he serves a 12-match suspension given to him by the English Football Association for his actions and sending off against Manchester City while playing for QPR at the end of last season, but he is confident about OM's title credentials.
"I think we've got a chance of winning the title and five or six clubs are capable of winning it. The league is very tight this season," Barton told RMC Radio.
"The team that's strongest mentally could win the title. I play for OM and we've got a team that could win the championship.
"At OM, we've got to take each game as it comes. We don't have a large squad. If we finish in front of PSG then that would be great. I came here to have a great season. Any team finishing in front of PSG will have had a good season."
Saint-Etienne, who are unbeaten in their last seven league games, travel to Evian on Saturday and will be looking to climb into the top three with a win over the Ligue 1 strugglers.
"We have not changed our habits. We prepare the same way," St Etienne centre back Moustapha Bayal Sall told the club's official website ahead of the game.
"In the game, the goals are always the same: to play our football and have no regrets at the final whistle. We take great pleasure in being together, both on and off the field. It is important for the life of a group - everyone is mobilised and pulls in the same direction."
In the other games, Lorient play Lille, Troyes host Nancy in a bottom of the table clash, Ajaccio face Sochaux, Brest take on Bastia and Valenciennes are at home to Montpellier, while on Sunday, Lyon face Reims and Nice take on Toulouse.