Salomon Kalou is in no doubt Roman Abramovich is the boss at Chelsea
Former Chelsea winger believes there is only one man in charge at Stamford Bridge - and it isn't Roberto Di Matteo.
Last Updated: 21/10/12 4:26pm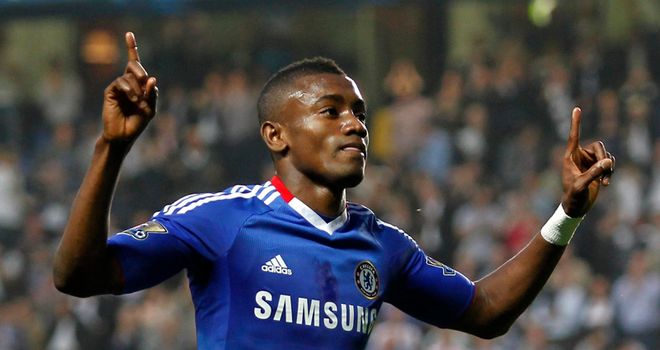 The Ivory Coast international left for Lille in the summer after winning the UEFA Champions League in his final game and is clear about the fact that it is owner Roman Abramovich who calls the shots.
"Roman has his vision and he knows how he wants things to happen," Kalou told The Sun Sunday. "He has the idea 'I want to run this club, I want things to work'.
"And sometimes he has to remind people 'I'm the one doing all of this'.
"That's important because players can forget and think 'Oh Chelsea have been at the top for eight years, we don't have to work hard, and I will play anyway'.
"It's important to remind players that 'you may have been here for eight years, but I can change the team any time I want, so you better get back to the pitch and do the job right'.
"That's the role of the owner - to remind everyone the only boss is him and we should be working for the best interests of the club - not individuals.
"Roman always reminded us very well of that and it worked every time. He came twice to talk to us - once in Carlo's time and we won 'The Double'.
"And he came again after AVB (Andre Villas-Boas) and we won the Champions League. So when you see the results - they are positive so you cannot criticise him because he has won everything.
"And most of all he wanted to win the Champions League. Maybe he could have won it with Jose (Mourinho), with Carlo (Ancelotti) or another coach. He happened to win it with Robbie.
"But he wanted to win the Champions League and he won it. So you can say doing all of that was worth it."
Everything
Kalou added: "He always made sure whatever we needed we had it and you cannot ask more from an owner than what he did for us. He always brought the best manager and players to the club, and he helped everyone to win something.
"That's the only thing that matters because at the end of the day I look back at Chelsea and say 'I won everything'.
"I won whatever a player could expect to win, so that experience was the best experience of my career and any other player would dream of having that experience at any other club."
Kalou worked under a number of managers at Chelsea including Mourinho, Ancelotti and Guus Hiddink and admits it was not easy with all the chopping and changing.
"Personally I think it's better to have stability," he added. "Some clubs have an identity with the way they play like Manchester United, Arsenal, Barcelona, because they keep their coaches for so long.
"With Jose we had that but when Jose left, it was kind of difficult to have that again because we kept changing managers.
"That was hard for players but, because we were together for a long time and we knew each other so well, we could adapt to the situation.
"But for me it was especially hard. Every time I got to the level where I had convinced a manager that I should be in the team and play regularly, the manager got sacked. So then you have to go back to the beginning when a new manager comes in.
"You have to convince the new manager all over again and when you do convince him, he gets sacked. You go through the same emotion every season and you think it's never going to happen for you."