Lille defender Aurelien Chedjou reveals Premier League ambition
Lille defender Aurelien Chedjou admits he would be open to making a summer move, with England his preferred destination.
By Patrick Haond
Last Updated: 01/03/13 12:14pm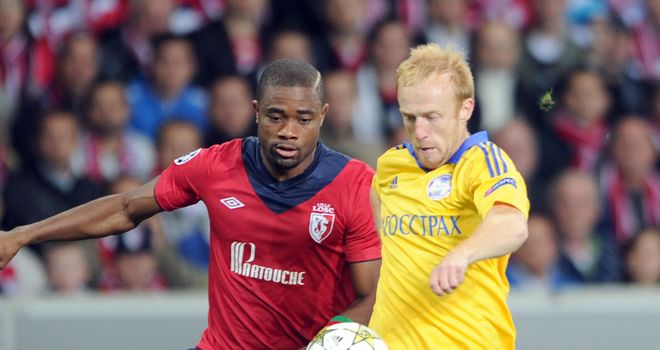 The Cameroon international has spent his entire career to date in France, with the last six years spent at 2011 Ligue 1 champions Lille.
The 27-year-old feels his game has evolved enough that he is now ready to take on a new challenge and prove his worth elsewhere.
He concedes that he would welcome the opportunity to compete in the Premier League, but is ruling nothing out as a number of options are expected to be put to him once the transfer window re-opens.
Chedjou told France Football: "I don't want to sound pretentious, but I feel ready to join a top European team. Then it will be up to me to make a name for myself there.
"I am ambitious but I am not saying that I am a (Nemanja) Vidic, Rio Ferdinand or John Terry, who have proved a lot and are older than me. I can dream and say I believe I can be as good as them.
"I have always wanted to play in England. There are great players there and you play at a high level.
"I won't say it is my dream and if I don't find a club there I will refuse another country. There are other attractive destinations, such as Germany, Spain, three or four Italian clubs and maybe Turkey."
Speculation
The highly-rated centre-half added: "A summer departure? Starting speculation is not my style.
"If at the end of the season I am told the club want to bring young players through and I get a good offer for myself and the club, that will present an opportunity to leave on good terms. That is what I want.
"We agreed with the club officials last summer that if I enjoyed a good season and there was an offer which would benefit everyone, I could leave."