Aliadiere has no regrets
New Lorient striker Jeremie Aliadiere insists he has no regrets about his time in England.
By Patrick Haond
Last Updated: 12/08/11 5:21pm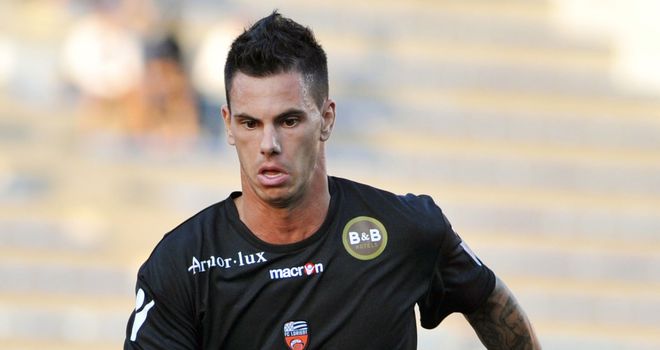 Jeremie Aliadiere insists he has no regrets about his time in England, saying this summer was the first time he had the option of returning to France.
The 28-year-old striker left for England in 1999, joining Arsene Wenger's Arsenal academy.
However, he has struggled to fulfil his potential during an injury-hit career and has only just come back to his homeland, signing a three-year deal with Lorient.
"I didn't have the opportunity to come back earlier," he told France Football.
"There was never any interest from a French club. Otherwise, I would have said 'why not?'"
While Aliadiere admits he was slightly-built as a youngster, he believes his training and the physical nature of the English game may have contributed to his injury problems at Arsenal.
After loan spells with West Ham and Wolves, Aliadiere hoped to put all that behind him by joining Middlesbrough in 2007.
Fragile
But he endured another three injury-hit years at The Riverside before spending the last year without a club.
"I suppose I am a fragile player but I never stopped living a healthy way of life," said Aliadiere.
"At the start I was very frail and thin. Maybe the workloads in England, at such a young age, didn't help. With so many injuries obviously you have to ask some questions.
"I have nothing against Wenger, he played me when I was fit. But such a club can't wait five or six months for one of its players to get back to his best.
"When Boro wanted me, Wenger didn't want me to leave. He relied on me because Thierry Henry left.
"But I wanted to go. Leaving Arsenal was like erasing all those injuries. I felt like I was cursed at Arsenal."
Yet Aliadiere claims he has no regrets and picked out his loan spell with Wolves in 2005/06, when they just missed out on the Championship play-offs, as his most enjoyable spell in England.
Wolves spell
"The key moment in my career and in my life was the five months I had in Wolverhampton," he added.
"It triggered something in my mind. I got self-confidence and I met my wife while I was there.
"The squad trusted me and I was like the star of the team. It was good to be considered an important player. That's why when I came back to Arsenal I was a different player.
"After 12 years, I don't regret anything. I don't think I was too young when I left for England."