Barcelona's Jordi Roura praises Eric Abidal after his return to the starting XI
Barcelona assistant coach Jordi Roura praised Eric Abidal after the defender's first start in more than a year.
Last Updated: 21/04/13 2:09pm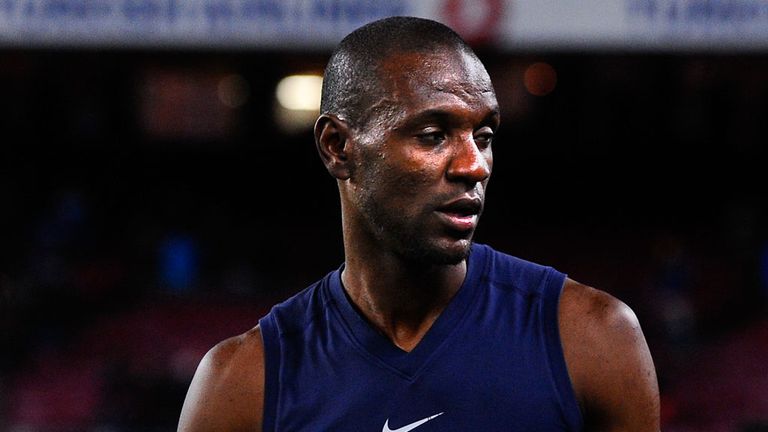 Assistant coach Jordi Roura praised Eric Abidal after the defender's assured performance in his first start for Barcelona in over a year helped move the Catalan club to the brink of the Primera Division title.
Cesc Fabregas' 84th-minute strike proved decisive as a below-par Barca saw off Levante 1-0 at the Nou Camp on Saturday night to restore the 13-point cushion over Real Madrid, who had briefly cut the deficit with a 3-1 win over Real Betis.
Barca were far from at their best - perhaps with one eye on Tuesday's Champions League semi-final first leg against Bayern Munich - but the result and the 90-minute display from Abidal left Roura more than satisfied.
"This is a very happy day for everyone," Roura said when asked about the Frenchman's performance on his first Barca start since February 2012 following liver surgery last year.
"He played the entire match and he feels great. On a footballing level, I think he played well. He paced himself perfectly.
"We have to enjoy this moment. We will have time to sit down and talk about his contract extension before the season is over. The important thing is that he played the whole game."
The result means Barca could clinch the title next weekend if they win at Athletic Bilbao and Real lose at Atletico Madrid.
"We'll go to Bilbao and try to win the game," Roura told the club's official website. "We will take this one game at a time. The sooner we can win the title, the better.
"There's no doubt that there's a lot of merit in winning four out of the last five editions of the competition - if we win this year. This is a very difficult tournament."
He added: "This Saturday we suffered quite a bit to win the game. This points to how hard the competition is and it gives value to the fact that we've won 84 points so far and that we have such a big advantage over one of the best Real Madrid sides ever.
"It's normal to have ups and downs. Perhaps we were lacking fluidity but that was largely due to how well Levante played.
"There is nothing that could overshadow our joy if we win La Liga."
Alexis Sanchez's future has been the subject of much speculation lately, with Juventus and Inter Milan reportedly interested in trying to lure him away from Barca this summer.
But the Chile forward, who set up the winning goal for Fabregas after being introduced as a 77th-minute replacement for Cristian Tello, remained focused on the task in hand when asked about his future.
After pointing out that his contract runs through to 2016, Alexis said his objective - at least this term - was "to win La Liga and the Champions League".
He added: "If the manager needs me, I'll be 100 per cent ready. I'm improving on a daily basis and I'm fitting in with the team."