Lionel Messi cannot imagine ever leaving Barcelona for Paris St Germain
Barcelona superstar Lionel Messi claims he cannot even imagine ever leaving the Catalan club.
By Patrick Haond
Last Updated: 30/10/12 2:00pm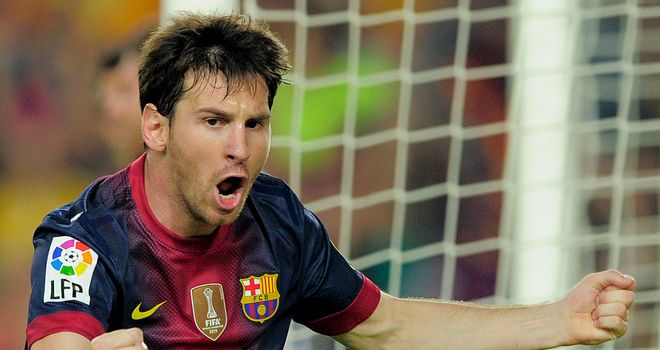 The likes of Manchester City and Paris St Germain theoretically have the funds to force the hand of Barcelona but the player himself is not prepared to contemplate a transfer.
Messi told France Football: "Leaving Barca to join a club like PSG? I have the best team-mates in the world. Each year we are fighting for titles.
"Barcelona is a wonderful city too. Barca is the club where I have grown. Frankly, I couldn't imagine myself leaving."
The Argentina international will doubtless be targeting another tilt at the UEFA Champions League trophy in May.
And the 25-year-old forward admits he is still struggling to come to terms with the penalty miss against Chelsea in last season's semi-final that saw Barcelona surrender their crown.
"I have already stated it is a prickle that has remained in my heart," added Messi.
"Of course I have been disappointed by that defeat because we deserved a goal there, which would have put us in a better position for the return leg.
"We didn't have success even if we did everything. Now that penalty, if I scored it, would have changed everything. Maybe it would have allowed us to win another Champions League but that is in the past."
But he added: "I've kicked that penalty so many times in my mind. Above all it is during the final that I thought if I had scored it we would have been in Chelsea's position."