David Beckham has played down reports he could join Monaco
David Beckham has played down reports he could join Monaco, but reiterated he is 'very flattered' by his options.
Last Updated: 30/11/12 8:39am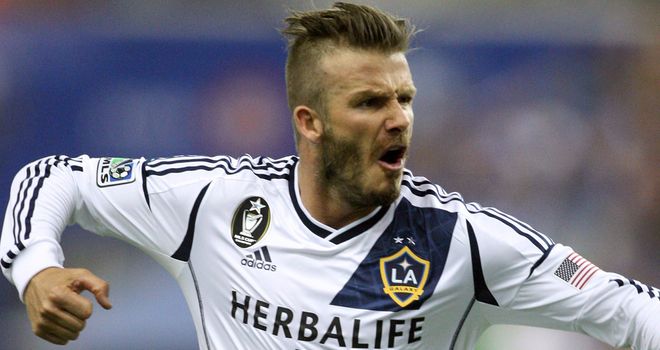 The midfielder is leaving Los Angeles Galaxy after Saturday's MLS Cup final and French side Monaco are among several clubs from across the globe to have shown an interest.
The likes of Paris St Germain, Queens Park Rangers and West Ham United have also been linked with a swoop for the former Manchester United star.
Beckham remains confident he can still play at a competitive level as the 37-year-old weighs up where he will likely finish his playing career.
"I heard about Monaco on the way to training this morning from a friend in London who said 'I hear you are going to Monaco'. That was the first I'd heard of that," said Beckham.
"I've got some interesting and exciting options on the table.
"I am very flattered by some of the options that I've got. I still feel I can play and I'm not considering retiring.
"I've still got managers like Carlo Ancelotti and Harry Redknapp and Sam Allardyce coming out that are saying they'd love me to play and they know how professional I am, it means a lot to me.
"It is what I have tried to base my career around, over the years, being professional and working hard, so it's nice to be recognised like that.
"I do believe I still have got another challenge inside, that I can still play for, I don't know how many years left. I do still feel I can play."
Monaco chief executive Tor-Kristian Karlsen has confirmed his club are exploring a possible deal for Beckham.
Karlsen said: "We are happy with our current squad but if there's a chance to get a player of Beckham's stature, we'd be foolish not to explore it.
"Right now we're trying to learn if Beckham's future ambitions are in sync with ours.
"I understand he's high in demand but it's natural for a player with his experience and quality. Let's see what the next few weeks bring.
"It's a privilege to be linked with world-renowned players like Beckham."