PSG chief Leonardo hits back at Lyon president's criticism of Zlatan Ibrahimovic
Paris Saint Germain sporting director Leonardo has accused Jean-Michel Aulas of having "an inferiority complex".
Last Updated: 18/12/12 3:58pm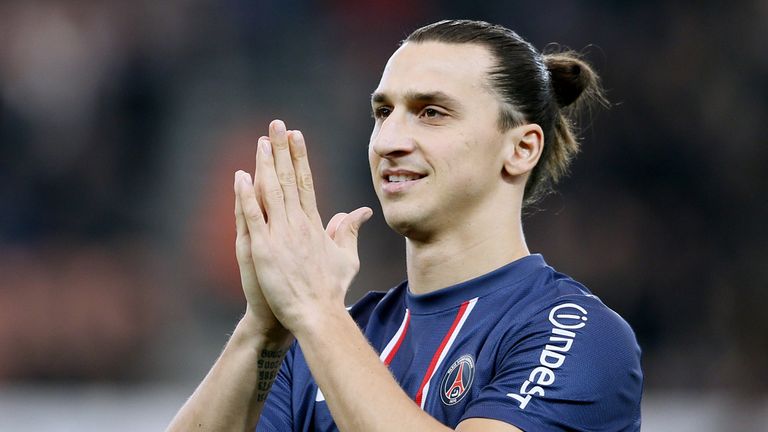 The PSG striker trod on Lyon defender Dejan Lovren's head late in the first half of his side's 1-0 win, a movement Lyon president Aulas insisted was deliberate and labelled a "massacre".
PSG sporting director Leonardo responded by claiming Aulas and his club have "an inferiority complex", saying in L'Equipe: "Who is Aulas to judge?
"What is he doing? I do not understand, does he also work for the league's disciplinary committee?
"All he wants is to distract from his team's bad result. We dominated Lyon, especially in the second half, that is the reality.
"You could say Aulas is seeking to justify this defeat. But do you know what it shows, in my eyes? An inferiority complex."
Aulas, responding in the same publication, said: "I am a bit disappointed because I have a lot of respect for Leo, his reputation and his quality when he was a player.
"He is trying to defend Zlatan and that is right, that is the main motivation of a director. I did the same, but with a player who was seriously injured.
"I am still convinced Zlatan's actions were uncalled for. He maybe did not have the intention of standing on Dejan's head but he certainly knew he was beneath him.
"I was deeply hurt, a bit like Dejan, by these nasty and unwelcome statements (but) my personal relationship with Leonardo, which is good, will not be affected because it was a bit like Zlatan's action, it was done without thinking."
Ibrahimovic, who was banned for two games earlier this season after being sent off for a high, studs-first lunge at St Etienne goalkeeper Stephane Ruffier, could also face sanctions if Sunday's incident is investigated by the French league's disciplinary committee.
And Aulas added: "I spoke after the match to the referee to say he was wrong and he should reconsider his decision, having not seen the incident at the time. He did not admit having made a mistake, he had not had chance to look at it again.
"If the commission does not look at this incident, there must be things I do not know and do not wish to know."